On Saturday, April 19, 2014, Joshua Tree National Park, along with other fee parks in the National Park Service, will kick off National Park Week and offer a fee-free weekend, April 19 and 20, 2014.
Come visit Joshua Tree Visitor Center (open 8-5), Oasis Visitor Center (open 9-5) and Cottonwood Visitor Center (open 9-4). Enjoy the beauty of the desert, hike a trail, and experience the majesty of your national parks! Some closures due to storm damage and nesting raptors are still in effect. Please ask a ranger at one of the visitor centers for additional details.
Pass the word please, especially to your friends who have never seen JTree in the springtime.
Join a ranger for a program! Programs currently having space available include:
April 19 – Evening Campfire Program at Indian Cove Campground, 8:00 p.m.;
April 20 – Cap Rock Hike, 2:00 p.m.;
April 23 – Cholla Cactus Garden Talk, 10:00 a.m.;
April 24 – Twin Tanks Talk, 10:00 a.m.; Walk Street Mill Hike, 11:00 a.m.
April 25 – Cottonwood Canyon Hike, 2:00 p.m.; Evening Campfire Program at Cottonwood Campground, 8:00; Evening Campfire Program at Jumbo Rocks Campground, 8:00 p.m.;
April 26 – Evening Program at Indian Cove Campground, 8:00 p.m.
You can also join a ranger for informal talks throughout the week at various locations including Hidden Valley, Skull Rock, Keys View and Barker Dam. Times will vary. Please check in at any of our visitor centers to see where these opportunities are available.
On April 26, 2014, we will conclude National Park Week by celebrating our next generation of park stewards with National Junior Ranger Day. Please see a ranger at any of our visitor centers for a list of ongoing activities this weekend.
Enjoy a glimpse at what makes these parks and park sites special to some of our dedicated staff by linking to: http://www.nps.gov/jotr/photosmultimedia/multimedia.htm    We encourage you to enjoy your public lands and to find a place that gives you solace – find your park!
JOSHUA TREE NATIONAL PARK, Twentynine Palms, California –
Joshua Tree National Park Visitor Protection Rangers, along with volunteer Joshua Tree Search and Rescue team members (JOSAR) responded to several incidents in the park this weekend. A report of a fallen climber near Hemingway was received at 11:29 AM, Saturday, March 29, 2014.  The report indicated the climber had fallen 15-20 feet and was unconscious and bleeding. National Park Rangers and medics from San Bernardino County arrived on scene and the patient was transported by Mercy Air to High Desert Medical Center.
On Sunday, March 30, 2014, a motor vehicle accident was reported just before 12:00 noon. A motorcycle went into the soft shoulder of the road approximately one-mile from the entrance closest to the West entrance to the park and crashed. The rider was wearing a helmet but appeared to have suffered a possible head injury. He was transported by Morongo Basin Ambulance to High Desert Medical Center. California Highway Patrol, in cooperation with the National Park Service, is investigating the incident.
Also on Sunday, a fallen climber at Headstone Rock was reported just after 12:00 noon. A 38-year old male had fallen an unknown distance, and was unconscious with a head wound. The patient was lowered using a technical rescue and was transported by ambulance to High Desert Medical Center. Partnering in this effort were San Bernardino County, Morongo Basin Ambulance, JOSAR and Joshua Tree National Park.
It is the busy season at Joshua Tree National Park, a time when local, domestic and international visitors all get out and experience parks and public lands. Enjoy your time here safely.
JOSHUA TREE SPRING CLING
Joshua Tree, CA  Join the American Alpine Club and Friends of Joshua Tree for our 3rd Annual Spring Cling Event!  One of the AAC Southwest Section's best annual events, we gather en masse to lend Joshua Tree a helping hand!  We will be meeting in Joshua Tree National Park on March 22nd at 8:00am in Hidden Valley Campground for a FREE volunteer breakfast and climber's coffee.  From 9:00am to 2:00pm we'll be working with the Park Service's Conservation Crew on a series of environmental projects.  PLEASE COME OUT IN FORCE AND HELP CLEAN UP JTREE!  BRING YOUR FRIENDS!  At 6:30pm please join us at the very interesting FURST WORLD STUDIO (8528 Desert Shadows Rd.), right outside the Park gates, for beer, silent auctions, raffles and a special slideshow by Ethan Pringle.
The AAC has free campsites for up to 18 people.  If you are interested in acquiring one of these sites, please contact AAC Western Manager Jeff Deikis.
If you've missed out on this event in the past, now's your chance for redemption!  One of the years best AAC events!!  Hope to see you there!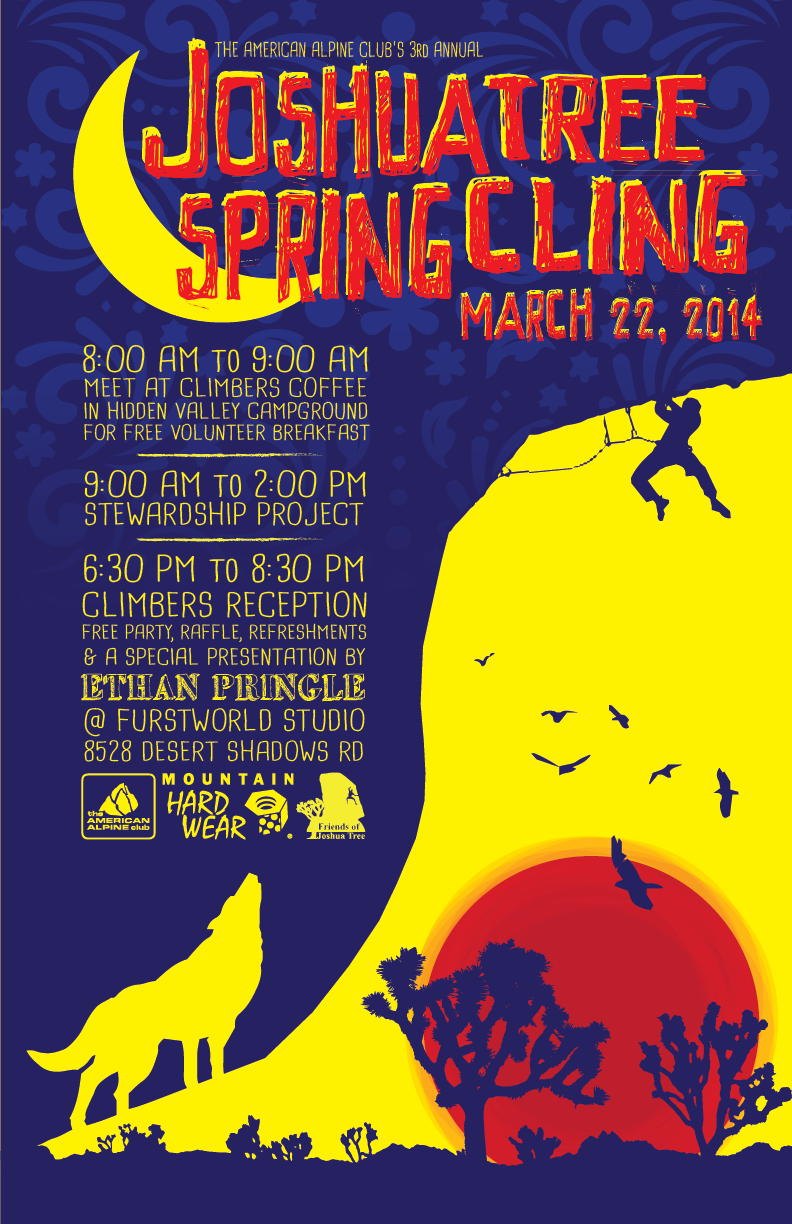 Joshua Tree National Park Superintendent Mark Butler signed a Temporary Emergency Closure to protect nearby nesting raptors. The climbing routes affected by this closure include: Slatanic Area, Rattlesnake Buttress, Margaret Thatcher Spire, The Stepping Stones, The Bulkhead, The Dunce Cap and Commissioner's Buttress. These are all located in the Indian Cove area of the park. Day hiking in Rattlesnake Canyon is not restricted at this time.
The nesting pair appears to have finished constructing a nest, and this area will remain closed until the nest has been abandoned to ensure the protection of the species for the duration of the nesting activities. The park does not anticipate the closure will last beyond June 15, 2014.
FOJT thanks Kevin Powell for stepping up to improve the anchors at a popular feature in the Park, and for showing the way forward for climbers to work with the Park in wilderness fixed anchor management. Here's a screen cap of his post on Mountain Project about the replaced/upgraded anchors on Room To Shroom and four other climbs just a short scramble from Barker Dam. No need to use the Pinyon Pine anymore!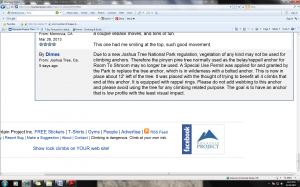 Both Mark Butler (Superintendent JTNP) and John Jarvis (Director, NPS) have made recent landmark decisions that clarify how fixed anchors in wilderness are to be managed… thanks to the input of groups like FOJT, AF, and climbing ranger Bernadette Regan (JTNP), the way forward is both better for climbers and the preservation of the Park. That is a win/win! FOJT BOD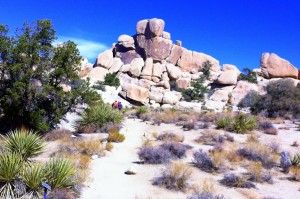 Climb Smart 2013 will base out of Joshua Tree Lake Campground as in the past two years but clinics will be held inside the Park, based on the recent action of Congress to allow us back into our National Parks.  Registration Still Open for an amazing value-packed weekend to kick off the climbing season in JTree!
Friday night is the REEL ROCK Film Tour 8, debuting for the first time in Joshua Tree and sure to be a treat in the setting of the Joshua Tree Astronomy Arts Theater at JT Lake Campground.  After a full day of sharpening skills and climbing, we can't imagine a better way to finish the evening.
Saturday full day clinics are followed by a special visit from Hans Florine, speed climbing champion and Yosemite legend.  The full event comes with a delicious dinner, participation in the raffle, and a special chance to hear from Joshua Tree National Park Superintendent Mark Butler!
JOIN US at Climb Smart 2013!
CLIMB SMART IS ON FOR OCTOBER 18-20 AT JOSHUA TREE LAKE CAMPGROUND AND FOR CLINICS, AT VARIOUS SITES IN THE AREA.  THE PARK CLOSURE DOES NOT CLOSE OFF THE CLIMBING COMMUNITY!
Friends Of Joshua Tree, as part of a nationwide network of climbing advocacy groups, regrets the failure of our government to function just as climbing season opens in the arid regions of the US.  This failure deeply affects not just FOJT, but our friends at JOSAR (Joshua Tree Search & Rescue), the local Joshua Tree gateway community and the entire global climbing community of Joshua Tree.  We (along with our friends at Access Fund and AAC) demand that Congress immediately open Joshua Tree National Park and every desert climbing area managed by the NPS to facilitate visitation and commerce critical to the region and the health of organizations like JOSAR and FOJT across the country.
The FOJT Climb Smart event is still planned to stage October 18-20, as a large portion of the event happens outside of the Park boundaries.  Contingency plans are under development for the elements of Climb Smart that are currently planned inside the Park boundaries.  We will be posting updates to our website and to registrants of the event regularly as the situation unfolds.  Thanks for your patience and if there is one thing you might do about this, please reach out to your local congressional representative to let them know that this form of negotiation is unacceptable to the American public and that consequences will be delivered by an empowered and connected network of passionate climbers via the power of our vote and the sway of our influence in our greater communities (over 12 million climbers in the US).
Board Of Directors, Friends Of Joshua Tree
Climb Smart is ON despite the current inane National Parks closure.  The event, taking place mostly on the festival grounds of the Joshua Tree Lake Campground , continues to accept registrants and will deliver an awesome experience of education, comraderie and fun to new and seasoned climbers alike.
Just Added… Hans Florine for Saturday Night (October 19) multimedia elite athlete presentation!  Hans is legend
and has many speed and technique tips for climbers in his new multimedia presentation.
There are still some spots left, but looking to sell out fast, come to Joshua Tree for a special celebration and show of community strength in the face of adversity.