The popular Indian Cove accessible crag known as Rattlesnake Canyon has been closed to all access while the JTNP deepens the investigation of the vandals defacing rock and creating blight in our National Park.
Here is what the mainstream media is saying http://www.latimes.com/news/local/la-me-joshua-tree-graffiti-20130413,0,3668905.story
This link will take you to the official announcement by JTNP on the closure.
le_rattlesnake_closure_20130404
"We hope it's isolated. We're hoping that the public will help us out by reporting any damage or vandalism that they see." One ranger said to the Press.
FOJT and the Access Fund are in dialogue with the Park on remedies and potential activation of the climbing community to combat this epidemic of impact and poor taste.  Please feel free to share your feelings, or better yet solution ideas, to this blog and we will air them at our Board Retreat nexst week.
Thank you!
This year's 16th annual Climb Smart was the biggest and best ever.  Thank you everyone for helping support this great event.  With three full days of clinics and two evenings of entertainment, Climb Smart moved into a new realm, with more than three times the attendance of previous years.  And of course, with that growth, we all experienced some growing pains that will help us make Climb Smart 2013 even better.  So, put it on your calendar….Climb Smart 2013, Oct. 18-20.  See the gallery of 2012 pics here!

Climb Smart Oct. 19-21 is building up to be the biggest and best ever, with double triple! the registrants and supporting organizations than last year and still a few days until it happens…  The event will sell out, so if you are interested to attend, click here.
Glimpse a gallery of images from the 2011 Climb Smart event
Meet JTree legendary climbers, network with fellow climbers, brush up skills, give back to the park and stay informed on latest developments that affect climbers nationwide.  Join Us!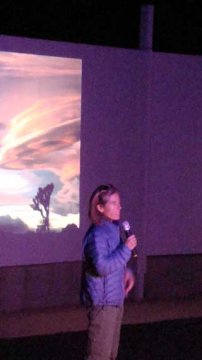 There is still space for Climb Smart 2012, kicking off the Fall climbing season in Joshua Tree with a fantastic lineup of legendary climbers, brands, locals, and inspiration to last all of 2013.
Click Here an important article just published by the Access Fund on egregious activities that currently affect climbing access in JTNP 
Friends Of Joshua Tree, in support of climbing in the Park and JOSAR (Joshua Tree Search & Rescue), works with the local community, sponsors like prAna and  Sterling Ropes and athletes and guides to bring us together and give back to one of America's most treasured and storied climbing areas.  This year the price has been drastically reduced (it's tough out there and don't we know it!) and the program expanded to include all day Friday and Saturday clinics and evening events for both nights.
Climbers unite!  We have always been great stewards of the land in Josh, but several individuals, acting outside of the carefully crafted rules that climbers in JTree have lived by for decades, now force the Park Service to consider drastic rules to thwart further illegal developments in the Park.   We've worked hard to steer the attitude toward us in a positive direction, but it only takes a few misinformed or uncaring moves to crush the progress.  JOIN US as the climbing community to show the Park, and each other, our strength of purpose and commitment to stewardship for the long haul.  SIGN UP HERE for Climb Smart 2012.
While summer approaches in Joshua Tree, it's the climbers natural migration time to the higher ground.  Kick off your mountain season with the perfect excuse to get into the Idyllwild frame of mind…
Where: Suicide Rock, Idyllwild, CA
When:  Sunday, June 3 2012
Hosted by:  Idyllwild Climber's Alliance
Details:  On Sunday, June 3rd the Idyllwild Climber's Alliance will be hosting the Second Annual Climber's Festival in Idyllwild.  In the morning volunteers will work on the three main climber's trails in Idyllwild, while the alliance's ambassadors will distribute educational materials to climbers as well as an invitation to attend the BBQ and raffle.  The big project for the day is to put in new stairs down to the Suicide Trail.  The day will wrap up with a BBQ, raffle and book signing.
In 2011 the festival brought out 40 volunteers and we are hoping for 50 this year.  We raised $250 for the Access Fund last year and this year we're hoping for $300 for the Alliance.  This event is sponsored by: the Alliance, the Access Fund, and the Southwest Section of the American Alpine Club.  We expect further help for the raffle from our friends in the outdoor industry.
Please RSVP to jlucke@cmc.edu
Every hour of time you donate to a crag helps show land managers that climbers are responsible stewards. Grab some friends and a pair of work gloves and spend a day giving back to the sport you love! We hope to  see you there.
Thanks for your support,
Ty Tyler
Stewardship Manager
Access Fund
Joshua Tree National Park will offer a front-row seat for one of the
biggest celestial events of the year. On May 20, large areas of the western United States will experience an annular solar eclipse, an event last seen in the United States in 1994. In the hours before sunset, the Earth's moon will pass in front of the sun casting a giant shadow across the land.
To mark the occasion, Joshua Tree National Park will host a special Solar Eclipse Event 051112 giving the public great views of this highly anticipated event.  Solar eclipse activities will take place at the Oasis Visitor Center in Twentynine Palms.
The Visitor Center is located at 74485 National Park
Drive. Joshua Tree National Park is in the zone to experience a partial
(near total) eclipse.
Here is the schedule of activities for the Solar Eclipse Event:
Noon        Telescopes with special filters will be set up to allow viewing
of the sun. Long before the eclipse is visible, solar observers
will be able to see sunspots and any solar flare activity.
4:30 p.m.   Rangers will offer presentations about the solar eclipse and
will show participants how to make a pinhole viewing device for
watching the eclipse.
5:25 p.m.   Approximate time for the start of the partial eclipse. Public
viewing of the eclipse will take place through telescopes and
through a video astronomy presentation. Special glasses for
viewing the eclipse will also be available.
6:38 p.m.   Peak of the eclipse for the Joshua Tree area occurs.
7:44 p.m.   Sunset
8:00 p.m.   Night sky program presented by National Park Service rangers
and park volunteers.
For more information about the May 20 eclipse at Joshua Tree, the public
can visit the park website at:
http://www.nps.gov/jotr/planyourvisit/event-details.htm?eventID=516859-307230
Information at viewing the solar eclipse at other National Park locations can be found here
www.nature.nps.gov/features/eclipse
It's a great time to visit the park, with the peak wildflower season beginning, perfect climbing temps and just to top it off, National Park Week… no charge to enter from April21-29!  National_Park_Week_at_JOTR_2012
There is also a Jr. Ranger event on April 21, and April 28-29 the 2nd annual Joshua Tree Biodiversity Hunt, this year focused around the 49 Palms Oasis… learn more here. 
Mark Butler, JTNP Superintendent, says  "The people of southern California have long looked to Joshua Tree as a place of refuge and recreation. We hope that as they visit us during National Park Week, they will also think about how they can get even more involved. There are many ways people can support the park, and rangers will be happy to suggest ways people can make a difference."
See the NPS press release here
Visit our photo galleries here and get inspired for your visit…
Friends of Joshua Tree is partnering with American Alpine Club with the SPRING CLING event Saturday March 24th 6:30 pm in Downtown Joshua Tree, after a day of revegetation work in the central Hidden Valley area of the Park. 
See/Download the Spring Cling spring cling flyer!
There's room for more volunteers to participate (click here for details)  in the park project with AAC & Threshold Climbing Gym on Saturday.  Specs are for about 200 plants, vertical mulch and delineating trail with rocks along the swath of old road by the Old Woman (see pic above).
The Evening event will be at the Starlite 61738 29 Palms Hwy – 1 block west of Park Blvd.
Our show starts promptly at 7pm with images and narrative by Damon Corso.
The presentation will feature images of free soloing (Michael Reardon) amazing bouldering images, as well as sport climbing and adaptive climbing.  Don't miss this free event!
Grab a bite to eat at Pie for the People – we receive a special price on any pizza slice(s) & beverage between 6 & 9pm)
The tranquil and beautiful patio is a perfect place to mingle with fellow climbers, make new friends, hang out and enjoy a slice of the best pizza west of New York.
Learn about the March 24 special project in the Park here 
You can email us at info@friendsofjosh.org,  or call the Park directly with questions;
Bernadette Regan
Climbing Ranger – Resource Management
Joshua Tree National Park
760-367-5578
(mention FOJT please!)