Save The Date, Climb Smart 2013, Oct. 18-20.  Registration will open in July.

See the gallery of 2012 pics here!
The popular Indian Cove accessible crag known as Rattlesnake Canyon has been closed to all access while the JTNP deepens the investigation of the vandals defacing rock and creating blight in our National Park.
Here is what the mainstream media is saying http://www.latimes.com/news/local/la-me-joshua-tree-graffiti-20130413,0,3668905.story
This link will take you to the official announcement by JTNP on the closure.
le_rattlesnake_closure_20130404
"We hope it's isolated. We're hoping that the public will help us out by reporting any damage or vandalism that they see." One ranger said to the Press.
FOJT and the Access Fund are in dialogue with the Park on remedies and potential activation of the climbing community to combat this epidemic of impact and poor taste.  Please feel free to share your feelings, or better yet solution ideas, to this blog and we will air them at our Board Retreat nexst week.
Thank you!
We've opened our spring fund drive just a little early, based on Puxatawny Phil's very scientific assessment of the arrival of spring… Help us build the JOSAR Cache, keep our website up (as you can see it needs some help) and come help us kick off the spring climbing season in person at the Spring Cling later this month!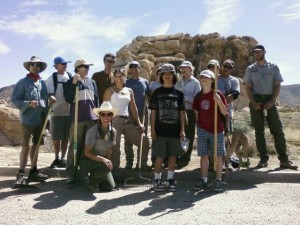 Donate to FOJT for our Spring Fund Raiser here
Sign up for our newsletter here.
Sights and sounds of the Climb Smart 2012 clinics put on by "Friends of Joshua Tree" the weekend of October 19th thru the 21st.
Special Thanks to the Friends of Joshua Tree organization. Also Shelby Beardslee, Ben Chapman, Steve Cole, Robert Fonda, Markus Jolliff, Mary Ann Kelly, Joe LeMay, Jon Lindquist, John Long, Sara Matisse, Vickie McConnell, Kevin Powell, Dan Richter, Steve Sauter, Tristan Sieleman, Phil Spinelli, Kier Stiteler, Miriam Taylor, Thom Wolfsen, Melody Wong. Also Bernadette Regan, the Joshua Tree National Park Staff, and all others that made this event possible.
This year's 16th annual Climb Smart was the biggest and best ever.  Thank you everyone for helping support this great event.  With three full days of clinics and two evenings of entertainment, Climb Smart moved into a new realm, with more than three times the attendance of previous years.  And of course, with that growth, we all experienced some growing pains that will help us make Climb Smart 2013 even better.  So, put it on your calendar….Climb Smart 2013, Oct. 18-20.  See the gallery of 2012 pics here!

Climb Smart Oct. 19-21 is building up to be the biggest and best ever, with double triple! the registrants and supporting organizations than last year and still a few days until it happens…  The event will sell out, so if you are interested to attend, click here.
Glimpse a gallery of images from the 2011 Climb Smart event
Meet JTree legendary climbers, network with fellow climbers, brush up skills, give back to the park and stay informed on latest developments that affect climbers nationwide.  Join Us!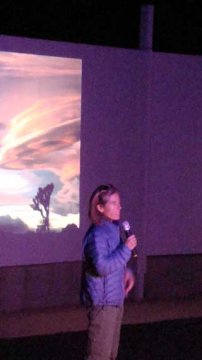 There is still space for Climb Smart 2012, kicking off the Fall climbing season in Joshua Tree with a fantastic lineup of legendary climbers, brands, locals, and inspiration to last all of 2013.
Click Here an important article just published by the Access Fund on egregious activities that currently affect climbing access in JTNP 
Friends Of Joshua Tree, in support of climbing in the Park and JOSAR (Joshua Tree Search & Rescue), works with the local community, sponsors like prAna and  Sterling Ropes and athletes and guides to bring us together and give back to one of America's most treasured and storied climbing areas.  This year the price has been drastically reduced (it's tough out there and don't we know it!) and the program expanded to include all day Friday and Saturday clinics and evening events for both nights.
Climbers unite!  We have always been great stewards of the land in Josh, but several individuals, acting outside of the carefully crafted rules that climbers in JTree have lived by for decades, now force the Park Service to consider drastic rules to thwart further illegal developments in the Park.   We've worked hard to steer the attitude toward us in a positive direction, but it only takes a few misinformed or uncaring moves to crush the progress.  JOIN US as the climbing community to show the Park, and each other, our strength of purpose and commitment to stewardship for the long haul.  SIGN UP HERE for Climb Smart 2012.
Lost in Willow Hole
April 15 tied the record for the most search and rescue incidents in a single day for the Joshua Tree Search and Rescue Team: four in 16 hours. It actually started the evening of April 14th, with an emergency callout for 5 lost hikers in the Willow Hole area. We should rename the area – give us your suggestions after you read its history.
There's a hike described in multiple JT hiking guides that takes you from the the Boyscout Parking lot, north down the Boyscout Trail, then east to the Willow Hole Trail. After passing Willow Hole, you find the Wonderland Connector which leads you to the top of Rattlesnake Canyon, and out at Indian Cove. This season there were ten searches for lost hikers on this route.
One guide book gives it a "strenuous" rating. They apparently don't have a "forgetaboutit" category. Don't get me wrong. If you're conditioned, experienced and well-equipped, it can be done. I estimate that more than 80% of the visitors who attempt this hike either turn back shortly after Willow Hole, or get lost and need a rescue.
Some of the difficulties are:
The Willow Hole Trail itself, that often gets washed out and hard to find and has confusing turns.
Finding the Wonderland Connector that looks on a topo map like a nice corridor between formations, but with smaller formations in the multitude of little canyons is very difficult to find.
The Connector itself, which includes more than a mile of giant boulder hopping and high fourth class travelling.
If you go in before 7AM with LOTS of water, a GPS, a compass, a topo map, shoes with sticky rubber, sun protection, survival supplies, two other hardbody friends and an attitude for adventure – you're likely to have a great time and come out the other end in Indian Cove. Or at least you'll come out somewhere near a road.
Back to April 15, 2012. If you happen to be in the right spot when you're lost, and you can get up to the top of a formation, you might get cell reception. Five young men were in that spot the evening of the 14th, and made a 911 call. It resulted in a JOSAR callout, and the search was on. The incident continued through the night, until about 2PM on the 15th when they were located and lead out to safety. They did all the right things while being lost, and were in good shape.
Just after JOSAR finished their debrief and left the park, there was a second call from dispatch alerting us of two people hiking in the Willow Hole area who were lost and needed help. The second operation of the day began, and resulted just four hours later with the subjects of the search safe and sound in the parking lot.
Twenty minutes after the team left Boyscout parking for the second time that day, a call came in for a fallen climber at Hidden Valley. The climber was on Double Cross, a multi-starred classic responsible for more broken ankles than any other route in the park. As expected, a broken ankle, and he was helped off to the hospital.
The last call of the day was a pleasant one. Two older visitors were stuck in the park because their rental car's ignition pushbutton wouldn't work. JOSAR only had to call it in, reassure the visitors they would not be stranded overnight and wait for the tow truck to come (4 hours later). We were very tired by then, so a quiet talk with the visitors after sunset was a nice rest.
In addition to Willow Hole and Double Cross, there are several repeat "black holes" for incidents in the park. JOSAR has been involved in a long-term project to develop pre-plans for these areas for a quicker and more effective response. The planning done in the Willow Hole area has been resulting in faster and safer searches.
This last season JOSAR had 39 SAR callouts, 17 medical incidents and many visitor assists. The summer should be a bit quieter, and give us the time to build that garage.
Your idea for a new name for the Willow Hole-Wonderland Connector hike??