Beautifully written by a Friend, Nikki Hodgson. 
In 1927, a Swedish immigrant built a small house on top of a hill in the middle of the Lost Horse Valley, just south of Quail Springs. John Samuelson, who was later acquitted of murder and escaped from a state hospital in 1930, spent his free time carving his political beliefs into the rocks alongside his homestead. Over 80 years later and you can still read his misspelled words carved neatly into the rocks of what is now Joshua Tree National Park. His messages have become part of the park, the ugly scratches turned into artwork, reclaimed by the desolation of the desert.
I try to remember this when I hear that parts of the park are now closed to the public because of repeated vandalism, struggling to view the defaced and spray painted rocks through the lens of history.
Is there anything climbers can do about this?
The popular Indian Cove accessible crag known as Rattlesnake Canyon has been closed to all access while the JTNP deepens the investigation of the vandals defacing rock and creating blight in our National Park.
Here is what the mainstream media is saying http://www.latimes.com/news/local/la-me-joshua-tree-graffiti-20130413,0,3668905.story
This link will take you to the official announcement by JTNP on the closure.
le_rattlesnake_closure_20130404
"We hope it's isolated. We're hoping that the public will help us out by reporting any damage or vandalism that they see." One ranger said to the Press.
FOJT and the Access Fund are in dialogue with the Park on remedies and potential activation of the climbing community to combat this epidemic of impact and poor taste.  Please feel free to share your feelings, or better yet solution ideas, to this blog and we will air them at our Board Retreat nexst week.
Thank you!
We've opened our spring fund drive just a little early, based on Puxatawny Phil's very scientific assessment of the arrival of spring… Help us build the JOSAR Cache, keep our website up (as you can see it needs some help) and come help us kick off the spring climbing season in person at the Spring Cling later this month!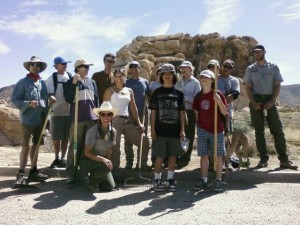 Donate to FOJT for our Spring Fund Raiser here
Sign up for our newsletter here.
This is sad and so utterly clueless… please let your friends know that this happened in one of our country's treasured National Parks and is plain stupid.  Though this is clearly not the work of climbers, it encourages the Park to focus on it's mission of protection as opposed to improving the experience for outdoor rec enthusiasts.
Here is a recent LA Times article announcing the closure of access to the Dam and some surrounding trails that access it.
Some of you will remember 2008 when Clark experienced his first battle with cancer. He had been in remission for several years, but recently cancer has returned and is now in stage 4.
Climbing in Southern California for over 35 years, Clark has many first ascents at Taquitz, Suicide and Joshua Tree. His most valuable contribution to our community has been his decades of guiding climbers and honoring and passing on local climbing ethics that have kept these areas safe and available to all.
Generously mentoring young climbers, offering beta to visitors, rescuing many injured or stranded climbers at great risk….  Clark Jacobs sets an example we can all aspire to.
Medical insurance is covering most of Clark's current treatments, but he is unable to work now and needs our help with his daily needs for food, trips to the hospital etc.
Please click on the link to send a credit card donation through The Friends of Joshua Tree.
You may also mail a check directly to Clark at the following address:
Clark Jacobs  PO Box 1653, Idyllwild CA 92549
Please, let's show Clark that our community cares.
also share up to your network in social media, gyms, and even (gasp!) in person or snail mail!  Clark has given so much to us, let's return the favor.
This year's 16th annual Climb Smart was the biggest and best ever.  Thank you everyone for helping support this great event.  With three full days of clinics and two evenings of entertainment, Climb Smart moved into a new realm, with more than three times the attendance of previous years.  And of course, with that growth, we all experienced some growing pains that will help us make Climb Smart 2013 even better.  So, put it on your calendar….Climb Smart 2013, Oct. 18-20.  See the gallery of 2012 pics here!

Climb Smart Oct. 19-21 is building up to be the biggest and best ever, with double triple! the registrants and supporting organizations than last year and still a few days until it happens…  The event will sell out, so if you are interested to attend, click here.
Glimpse a gallery of images from the 2011 Climb Smart event
Meet JTree legendary climbers, network with fellow climbers, brush up skills, give back to the park and stay informed on latest developments that affect climbers nationwide.  Join Us!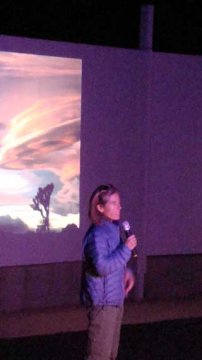 There is still space for Climb Smart 2012, kicking off the Fall climbing season in Joshua Tree with a fantastic lineup of legendary climbers, brands, locals, and inspiration to last all of 2013.
Click Here an important article just published by the Access Fund on egregious activities that currently affect climbing access in JTNP 
Friends Of Joshua Tree, in support of climbing in the Park and JOSAR (Joshua Tree Search & Rescue), works with the local community, sponsors like prAna and  Sterling Ropes and athletes and guides to bring us together and give back to one of America's most treasured and storied climbing areas.  This year the price has been drastically reduced (it's tough out there and don't we know it!) and the program expanded to include all day Friday and Saturday clinics and evening events for both nights.
Climbers unite!  We have always been great stewards of the land in Josh, but several individuals, acting outside of the carefully crafted rules that climbers in JTree have lived by for decades, now force the Park Service to consider drastic rules to thwart further illegal developments in the Park.   We've worked hard to steer the attitude toward us in a positive direction, but it only takes a few misinformed or uncaring moves to crush the progress.  JOIN US as the climbing community to show the Park, and each other, our strength of purpose and commitment to stewardship for the long haul.  SIGN UP HERE for Climb Smart 2012.