Before you move on to the high elevations, mark your calendar for Climb Smart 2012, October 19-21 at JT Lake Campground and in the Park. Climb Smart is the kickoff event in Joshua Tree for climbers, bringing the local and global climbing community together for education, celebration and inspiration.  Last year's event was a breakthrough success for FOJT and JOSAR, with new venues, new clinics, a new format and even the Cactus Pricks live performance!   See images from last year's event below, and click here to get beta on the 2012 event, or see a photo gallery of CS11.
This year's event will sport three full days of clinics, two evenings of live entertainment, and even lower pricing for participants, with new food options, and more swag!  "Pie for the People" will have their world famous pizza pies, salads, and baked ziti available for purchase at the camground Friday night, and Saturday night we are bringing back our popular spaghetti dinner as part of the evening's events.
Register early, by September 10th., to be entered in a drawing for a new climbing rope!  Winner will be announced at the Saturday dinner party.
This year the Lake will be open for fishing, so bring your fishing poles, or rent them at the country store next to the Lake.  More details when you register.
NEW THIS YEAR:  Special Keys Ranch Tour, Sunday 9am!  Register early.  Only 25 spots available.
Join us!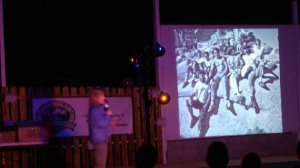 With the perfect weather window, a brand new venue, a slew of amazing and talented pros, the partnership of the Park and awesome sponsors from retail to brand to advocacy groups to the Cactus Pricks, Climb Smart 2011 broke through in completely new style on the 14 year old annual event. Huge THANKS to all of you who contributed to an all-time great time in and around JTNP.
If you want to get a glimpse of what happened last weekend, check out these links UPDATED:
Climb Smart Video incl. Lynn Hill at Thin Wall (thx to Smoking Chimp Productions!)
our Facebook page, with Pics!
JTree Astronomy Arts Theater (the venue and amazing multimedia platform)
SoCal Digital Video Astronomers
The Cactus Pricks (featuring climbing icons Al Bartlett, Don Reid, and Pat Brennan on stagecraft!)
More to come as folks get their film processed and back from the darkroom (!).
Join us for the season kickoff event in Joshua Tree Oct. 21-23 (Friday thru Sunday)! LYNN HILL will be there, teaching and sharing inspiration and slides, along with BRITTANY GRIFFITH and KURT SMITH to anchor the athlete lineup… camping, raffles, star gazing, sponsor booths, multimedia, the works!
REGISTER NOW FOR FULL EVENT OR SATURDAY EVE PARTY ONLY
CS11 Participant Confirm Letter/Itinerary CS11 Participant Confirm Letter
CS11 Clinic Schedule CS11 clinic schedule final draft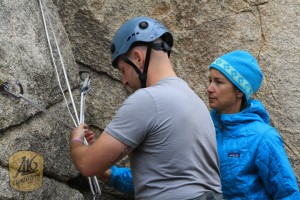 From our good friend and AF regional coordinator Jim Pinter-Lucke…
Adopt-a-Crag * Climbers' Festival
May 14, 2011
8:30 – 6
Idyllwild Town Hall 25926 Cedar Street Idyllwild, CA                                                          
Activities
Morning: Trail Maintenance and Sign Work
Afternoon: Climbing Shoe Demo, Stonemaster Book Signing
5:00 BBQ
6:00 Raffle and Closing
This event is organized by the Idyllwild Climber's Alliance in conjunction with the US Forest Service and is sponsored by the Access Fund and American Alpine Club with support from Nomad Ventures, Honey Bunns & Joe Bakery, Stonemaster Press, and   XYZ
For more details and to RSVP: jlucke@cmc.edu or 909.267.5767