Climb Smart education to go forward this weekend IN JTNP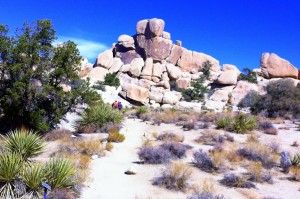 Climb Smart 2013 will base out of Joshua Tree Lake Campground as in the past two years but clinics will be held inside the Park, based on the recent action of Congress to allow us back into our National Parks.  Registration Still Open for an amazing value-packed weekend to kick off the climbing season in JTree!
Friday night is the REEL ROCK Film Tour 8, debuting for the first time in Joshua Tree and sure to be a treat in the setting of the Joshua Tree Astronomy Arts Theater at JT Lake Campground.  After a full day of sharpening skills and climbing, we can't imagine a better way to finish the evening.
Saturday full day clinics are followed by a special visit from Hans Florine, speed climbing champion and Yosemite legend.  The full event comes with a delicious dinner, participation in the raffle, and a special chance to hear from Joshua Tree National Park Superintendent Mark Butler!
JOIN US at Climb Smart 2013!
Comments