Climb Smart Rocks the desert, kicks off the 11-12 Season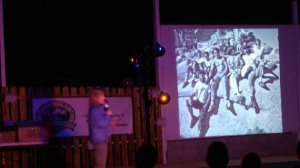 With the perfect weather window, a brand new venue, a slew of amazing and talented pros, the partnership of the Park and awesome sponsors from retail to brand to advocacy groups to the Cactus Pricks, Climb Smart 2011 broke through in completely new style on the 14 year old annual event. Huge THANKS to all of you who contributed to an all-time great time in and around JTNP.
If you want to get a glimpse of what happened last weekend, check out these links UPDATED:
Climb Smart Video incl. Lynn Hill at Thin Wall (thx to Smoking Chimp Productions!)
our Facebook page, with Pics!
JTree Astronomy Arts Theater (the venue and amazing multimedia platform)
SoCal Digital Video Astronomers
The Cactus Pricks (featuring climbing icons Al Bartlett, Don Reid, and Pat Brennan on stagecraft!)
More to come as folks get their film processed and back from the darkroom (!).
Comments