Program for Climb Smart 2013 under development, with Reel Rock Tour confirmed! Oct. 18-20, 2013
Join us to kick off the 2013-14 JTree climbing season at Climb Smart.  Now in it's 15th year, this is THE event of the Fall for Joshua Tree climbers from around the world.  Reel Rock 8 Film Tour will come for the first time, planned for the first night of Climb Smart (Friday, October 18th) – tickets now available!  Climbing Clinics are in development now, so if there is a topic you think should be covered please let us know!  Of course the event will include all of the education, entertainment, camaraderie, swag and athlete inspiration to properly and safely push your climbing to the next level.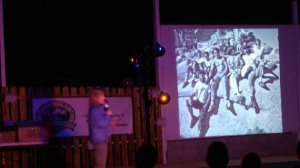 Prior year rock stars anchoring Climb Smart – Brittany Griffith, Ron Kauk, Lynn Hill, John Long, Mark Wilford, Randy Leavitt, Timmy O'Neill, Majka Burhardt, Kate Rutherford, Sonnie Trotter, Linh Nguyen, Bob Gaines, and a host of others including AMGA, PCIA and PCGA certified guides anchoring the clinician lineup.
On the sponsor side, recent sponsors have been The North Face, Evolve Sports, Sierra Designs, Petzl, Scarpa, Black Diamond, Adventure 16, Five Ten, prAna, Sterling Ropes, Nomad Ventures, Gear Co-Op, Patagonia, Joshua Tree National Park, Revo sunglasses, Wilderness Outings and a number of local Joshua Tree businesses.
Comments