The Pics are posted, the surveys are done, and the season is well under way in Joshua Tree… but it's not too early to Save The Date for Climb Smart 2017.
Cut and Paste this into your 4K Digital Interactive Voice-Activated Robot Calendar ….
CLIMB SMART 2017, OCTOBER 13-15, 2017
(JTNP and Joshua Tree Lake Campground)
This year's event will sell out, so keep an eye on posts and our social stream (facebook = Friends Of Joshua Tree, and Climb Smart, twitter @JTreeFriends).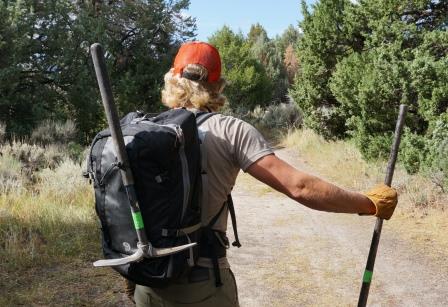 Access Fund, in partnership with a host of climbing advocacy groups, is putting on 3 Climbing Stewardship Trainings this year. The first event is 
May 17

-21 in Yosemite National Park.
There will be presentations by the Yosemite Climbing Rangers, the Yosemite Climbing Stewards, and Leave No Trace.
Ty Tyler, Stewardship Director of Access Fund, says "We have space for about 40 folks and I've filled just over 1/2 so far." Get on board for some hands-on advocacy, education and great network-building in Yosemite!
There's also one in Salt Lake mid-June and the Red River Gorge in Sept. 
Ty says, "Its going to be a great event; the NPS staff are excited and we will hopefully gain more momentum for stewardship at our climbing areas."
HERE
 is the registration page as well.
CONTACT INFO TO GET INVOLVED
Ty Tyler
Stewardship Director | Access Fund
Tucson, AZ
Where's the Conservation Team? Find out here 
Friends of Joshua Tree is partnering with American Alpine Club with the SPRING CLING event Saturday March 24th 6:30 pm in Downtown Joshua Tree, after a day of revegetation work in the central Hidden Valley area of the Park. 
See/Download the Spring Cling spring cling flyer!
There's room for more volunteers to participate (click here for details)  in the park project with AAC & Threshold Climbing Gym on Saturday.  Specs are for about 200 plants, vertical mulch and delineating trail with rocks along the swath of old road by the Old Woman (see pic above).
The Evening event will be at the Starlite 61738 29 Palms Hwy – 1 block west of Park Blvd.
Our show starts promptly at 7pm with images and narrative by Damon Corso.
The presentation will feature images of free soloing (Michael Reardon) amazing bouldering images, as well as sport climbing and adaptive climbing.  Don't miss this free event!
Grab a bite to eat at Pie for the People – we receive a special price on any pizza slice(s) & beverage between 6 & 9pm)
The tranquil and beautiful patio is a perfect place to mingle with fellow climbers, make new friends, hang out and enjoy a slice of the best pizza west of New York.
Learn about the March 24 special project in the Park here 
You can email us at info@friendsofjosh.org,  or call the Park directly with questions;
Bernadette Regan
Climbing Ranger – Resource Management
Joshua Tree National Park
760-367-5578
(mention FOJT please!)
OCT. 22-24 FOJT with sponsors Black Diamond, Adventure 16, Sterling Ropes, Evolve Sports , Nomad Ventures and Uprising and kick off the climbing season in Joshua Tree right with skills clinics, pro athlete presentations, swag giveaways, costume contests, a new festival format and much more!
REGISTER HERE
(Use the password 'joshua' to get in if you're not a 'bot!)
There simply isn't a better excuse to come to JTree, give back to the Park and build lifelong relationships with other climbers of all skill levels. Did we mention swag?
First 50 registrants to camp with us get limited campsites at the festival grounds, directly next to the Sportsman's Club in Joshua Tree. Don't miss this annual gathering that supports FOJT, Joshua Tree Search & Rescue and other key climbing advocacy groups. <

FOJT is kicking off the climbing season in the fall with a totally revamped format for their annual event, in partnership with brands, athletes and the local Joshua Tree community. Now in it's 13th year, This will be one not to miss, with more to do, more to see and more engagement with the Park than ever before.
October 22-24, 2010. Joshua Tree Community Center/Sportsmans Lodge complex
Click here to see a cool Climb Smart gallery to get a flavor for the event.
Here are just some of the climbing areas threatened with closure due to state budget mismanagement: Mt. Diablo, Mt. Tamalpais, Castle Rock, Castle Crags, Mt. San Jacinto, Stinson (Mickey's) Beach, Patrick's Point, Mt. St. Helena, Emerald Bay, Point Dume, Malibu Creek, Lake Perris/Big Rock, and Stonewall Creek… not to mention numerous surf spots and other outdoor rec havens. Please make your opinion known here via the Access Fund Action Center
January 1, 2009 · Posted in
Events
·
Comments Off

on Dean Fidelman Movie Night January 17, 2009
LATE BREAKING NEWS!  LINDNER HAS TO BOW, and DEAN FIDELMAN STEPS UP
Dean Fidelman has agreed to do a show called; Stone Masters, Stone Monkies and Stone Nudes. An adult rated show, it will include images of climbers pushing the limits both on and off the Rock! 7pm on Saturday @ Park Rock Cafe (6554 Park Blvd), next door to Nomads. $10 / fee includes popcorn, soda and raffle ticket.
REGISTER HERE TO GET ADVANCE TICKET
This event supports advocacy in the Park for climbers, and the Joshua Tree Search & Rescue group.  But mostly it's fun, there's popcorn and drinks,  and you can score raffle swag too.