Join FOJT, JOSAR, and the climbing community in a gathering hosted by Joshua Tree National Park! March 8, 2017 6-8pm at the Joshua Tree Community Center (doors open 5:30pm).
Let your voice be heard… Come and discuss the current and future state of climbing in the national park. Snacks provided.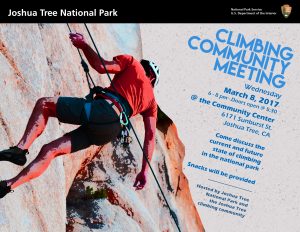 It's time to mark your calendars for FOJT's Climb Smart 2015!
OCTOBER 16-18, 2015 at Joshua Tree Lake Campground will once again be the climber kickoff to the season with Education, Stewardship and a Fun Time on deck for all attendees. This year's event will feature more pro athletes, brands and opportunities than ever before, so ink the date and stay tuned for more details on Sponsors, Service Project and the Reel Rock Film Tour (brought by Gear Co-op once again!) tie-in for 2015.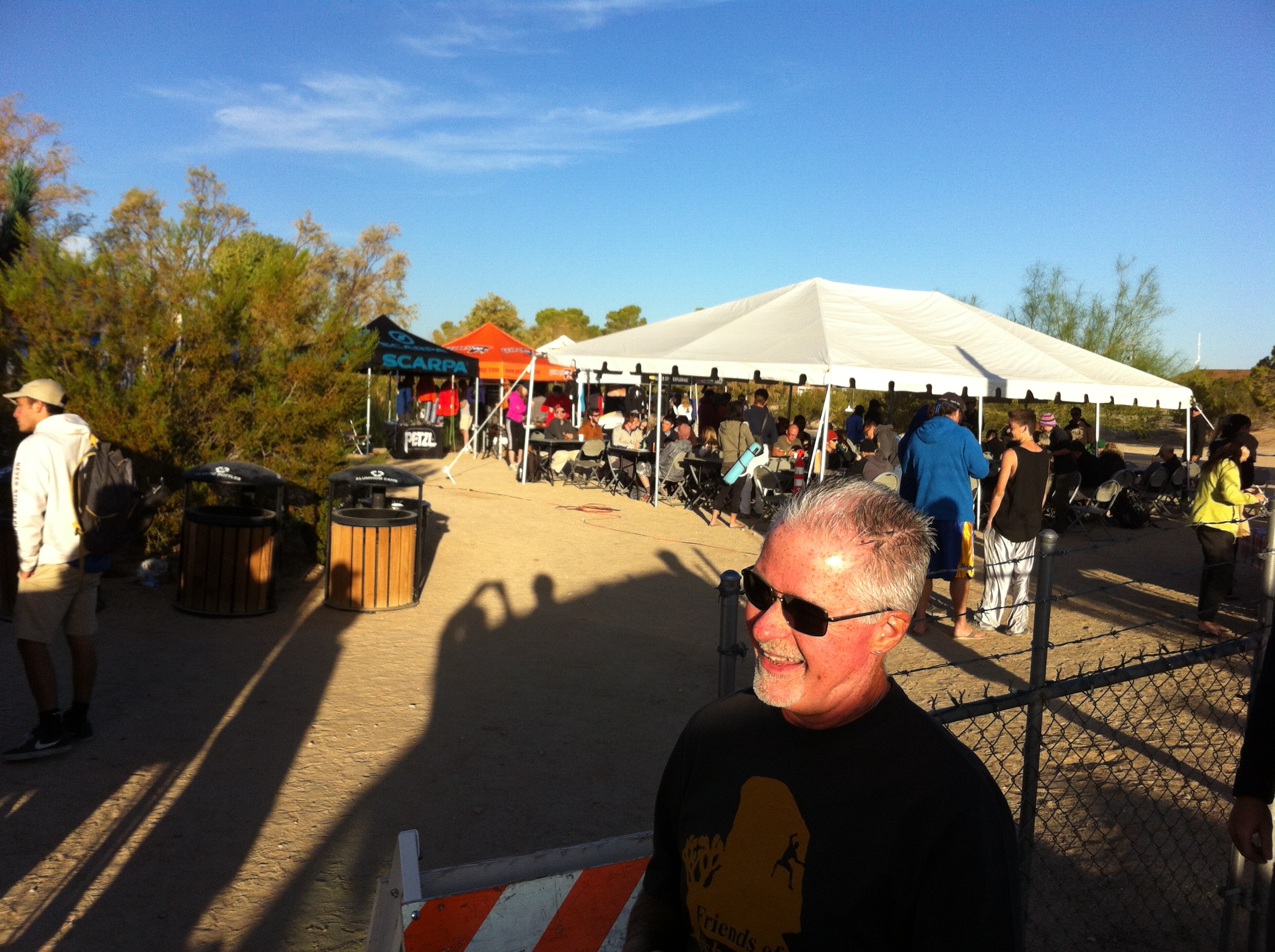 Mark your calendars (OCTOBER 17-19, 2014) for the kickoff event of the Fall climbing season in JTree… Climb Smart 2014. A benefit for Friends Of Joshua Tree as well as JOSAR, this gathering at the Joshua Tree Lake Campground and Astronomy Arts Theater and various venues in and outside of the Park is simply an awesome way to sharpen your trad skills, meet some amazing climbers, get to win piles of swag, see Real Rock 9 "Valley Uprising" Friday night and meet John Long Saturday, and give back to the Park and just have fun with loads of new climbers.
Here's what you get by registering for Climb Smart 2014:
2.5 days of skills clinics with PCGI and SCMA instructors
2 dinners
3 nights camping (through Saturday night)
Ticket to Reel Rock Film Tour #9
Vendor village for learning about the latest gear innovations
Lots of other climbers, beginner to advanced, to build your network out
Athlete presentations and coaching
SEE THE 2014 Climb Smart SCHEDULE HERE CS clinics 2014 FD

 

(schedule subject to change… heads up! )
It's our biggest event of the year and we go all out!  REGISTRATION IS NOW OPEN!  so sign up on our facebook page or for our email news alerts on this page.
JOSHUA TREE SPRING CLING
Joshua Tree, CA  Join the American Alpine Club and Friends of Joshua Tree for our 3rd Annual Spring Cling Event!  One of the AAC Southwest Section's best annual events, we gather en masse to lend Joshua Tree a helping hand!  We will be meeting in Joshua Tree National Park on March 22nd at 8:00am in Hidden Valley Campground for a FREE volunteer breakfast and climber's coffee.  From 9:00am to 2:00pm we'll be working with the Park Service's Conservation Crew on a series of environmental projects.  PLEASE COME OUT IN FORCE AND HELP CLEAN UP JTREE!  BRING YOUR FRIENDS!  At 6:30pm please join us at the very interesting FURST WORLD STUDIO (8528 Desert Shadows Rd.), right outside the Park gates, for beer, silent auctions, raffles and a special slideshow by Ethan Pringle.
The AAC has free campsites for up to 18 people.  If you are interested in acquiring one of these sites, please contact AAC Western Manager Jeff Deikis.
If you've missed out on this event in the past, now's your chance for redemption!  One of the years best AAC events!!  Hope to see you there!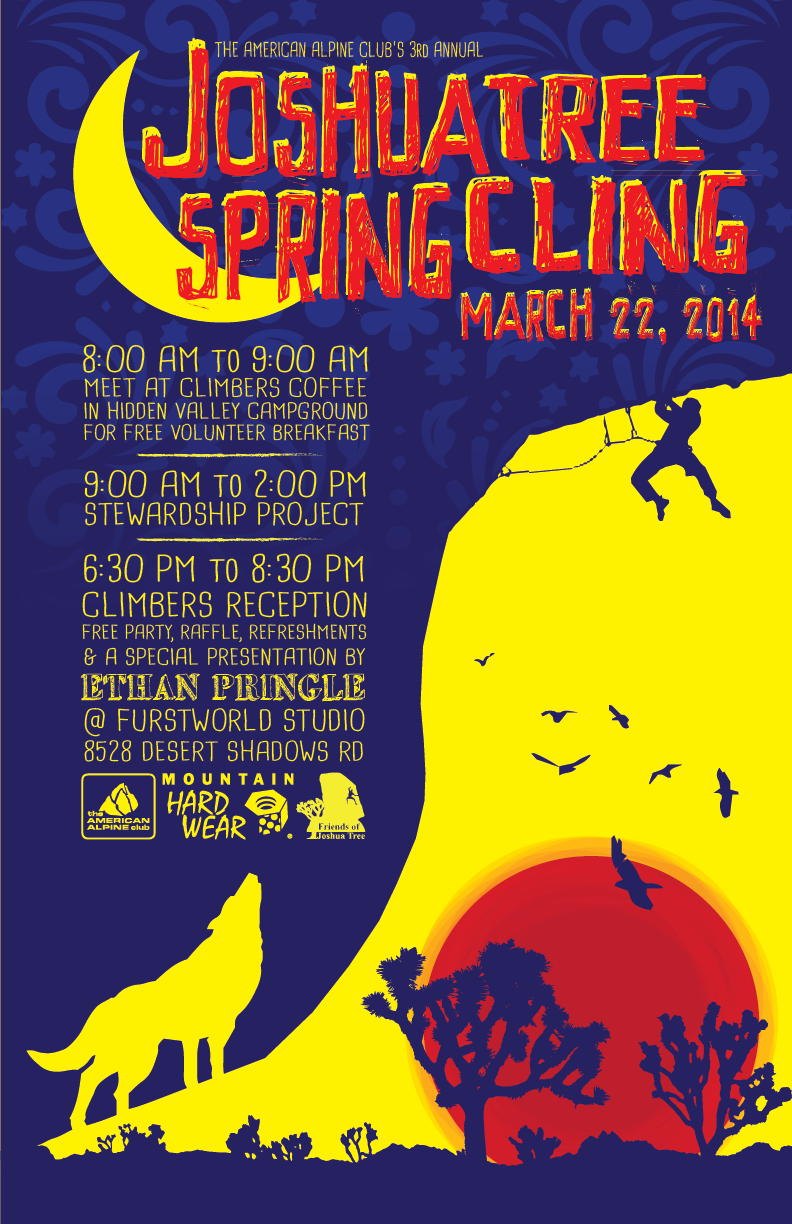 CLIMB SMART IS ON FOR OCTOBER 18-20 AT JOSHUA TREE LAKE CAMPGROUND AND FOR CLINICS, AT VARIOUS SITES IN THE AREA.  THE PARK CLOSURE DOES NOT CLOSE OFF THE CLIMBING COMMUNITY!
Friends Of Joshua Tree, as part of a nationwide network of climbing advocacy groups, regrets the failure of our government to function just as climbing season opens in the arid regions of the US.  This failure deeply affects not just FOJT, but our friends at JOSAR (Joshua Tree Search & Rescue), the local Joshua Tree gateway community and the entire global climbing community of Joshua Tree.  We (along with our friends at Access Fund and AAC) demand that Congress immediately open Joshua Tree National Park and every desert climbing area managed by the NPS to facilitate visitation and commerce critical to the region and the health of organizations like JOSAR and FOJT across the country.
The FOJT Climb Smart event is still planned to stage October 18-20, as a large portion of the event happens outside of the Park boundaries.  Contingency plans are under development for the elements of Climb Smart that are currently planned inside the Park boundaries.  We will be posting updates to our website and to registrants of the event regularly as the situation unfolds.  Thanks for your patience and if there is one thing you might do about this, please reach out to your local congressional representative to let them know that this form of negotiation is unacceptable to the American public and that consequences will be delivered by an empowered and connected network of passionate climbers via the power of our vote and the sway of our influence in our greater communities (over 12 million climbers in the US).
Board Of Directors, Friends Of Joshua Tree
We've opened our spring fund drive just a little early, based on Puxatawny Phil's very scientific assessment of the arrival of spring… Help us build the JOSAR Cache, keep our website up (as you can see it needs some help) and come help us kick off the spring climbing season in person at the Spring Cling later this month!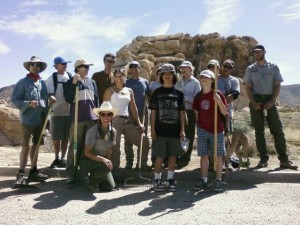 Donate to FOJT for our Spring Fund Raiser here
Sign up for our newsletter here.
Friends of Joshua Tree is partnering with American Alpine Club with the SPRING CLING event Saturday March 24th 6:30 pm in Downtown Joshua Tree, after a day of revegetation work in the central Hidden Valley area of the Park. 
See/Download the Spring Cling spring cling flyer!
There's room for more volunteers to participate (click here for details)  in the park project with AAC & Threshold Climbing Gym on Saturday.  Specs are for about 200 plants, vertical mulch and delineating trail with rocks along the swath of old road by the Old Woman (see pic above).
The Evening event will be at the Starlite 61738 29 Palms Hwy – 1 block west of Park Blvd.
Our show starts promptly at 7pm with images and narrative by Damon Corso.
The presentation will feature images of free soloing (Michael Reardon) amazing bouldering images, as well as sport climbing and adaptive climbing.  Don't miss this free event!
Grab a bite to eat at Pie for the People – we receive a special price on any pizza slice(s) & beverage between 6 & 9pm)
The tranquil and beautiful patio is a perfect place to mingle with fellow climbers, make new friends, hang out and enjoy a slice of the best pizza west of New York.
Learn about the March 24 special project in the Park here 
You can email us at info@friendsofjosh.org,  or call the Park directly with questions;
Bernadette Regan
Climbing Ranger – Resource Management
Joshua Tree National Park
760-367-5578
(mention FOJT please!)
From our good friend and AF regional coordinator Jim Pinter-Lucke…
Adopt-a-Crag * Climbers' Festival
May 14, 2011
8:30 – 6
Idyllwild Town Hall 25926 Cedar Street Idyllwild, CA                                                          
Activities
Morning: Trail Maintenance and Sign Work
Afternoon: Climbing Shoe Demo, Stonemaster Book Signing
5:00 BBQ
6:00 Raffle and Closing
This event is organized by the Idyllwild Climber's Alliance in conjunction with the US Forest Service and is sponsored by the Access Fund and American Alpine Club with support from Nomad Ventures, Honey Bunns & Joe Bakery, Stonemaster Press, and   XYZ
For more details and to RSVP: jlucke@cmc.edu or 909.267.5767