The NPS has initiated a boundary adjustment study that considers returning over 20,000 acres of land in the Eagle Mountain area back to the park. The draft document is out with a variety of alternatives with the majority of land to be returned currently under BLM Management.
See below for resources to better understand the alternatives proposed (4, currently). Take a look at these linked docs and maps… and then use the email JOTR
Joshua-Tree-National-Park-Boundary-Study-Fact-Sheet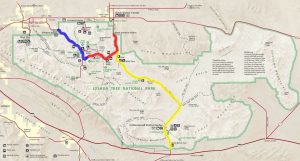 JOTR_EM_EA_Review_Newsletter_March_2016
Send comments via email to JOTR_Study@nps.gov
Please feel free to comment on this post to share your feelings about expanding the Park boundaries, what issues are important to consider, and how this can impact the local recreation economy of Joshua Tree. 
FOJT Board Of Directors
Time to mark your calendars, everyone. OCTOBER 14-16 is the annual FOJT Climb Smart event, staging once again at Joshua Tree Lakes Campground and in various spots inside JTNP. This  year will be a special community gathering marking the 100th anniversary of the National Park Service and the 19th staging of this seasonal kickoff to the climbing season in Josh. Join us for a value-packed weekend of education, inspiration and celebration, all in support of a great cause. Registration will open around June 1, and all proceeds benefit JOSAR, Friends Of Joshua Tree and Access Fund.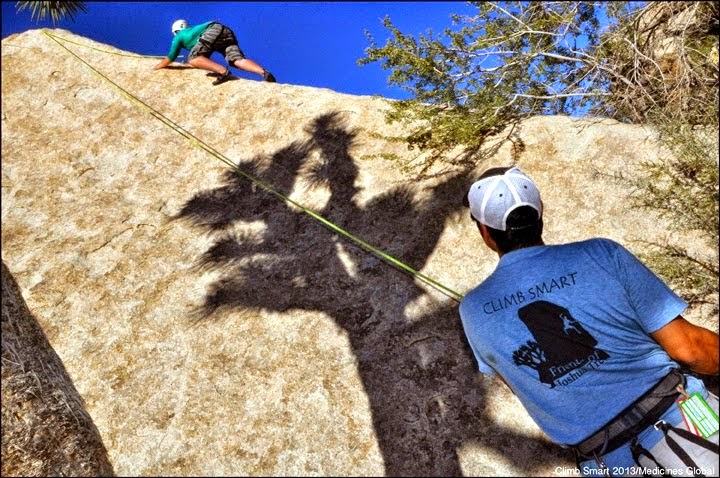 OCTOBER 16-18… This year's CLIMB SMART will be the 18th annual event that leads into the Centennial year of the National Parks in the USA. This will be among the best events to attend of the season! TNF's Daniel Woods is a feature athlete offering insight and inspiration!
JUST ADDED – Jess Roskelley (adidas Outdoor athlete)… many more will gather with us again next month… YOU can be there.
Kick off the climbing season with us and our awesome partner organizations in service to the Park, to our great climbing community and learn/refresh skills while building a network of passionate and diverse climbers from different disciplines, skill levels and meet a few legends too. And then, there's always the swag and feature entertainment in the evenings that are just plain fun and worthwhile by themselves. See pics of Climb Smart events from the past below. And videos here!
In all, Climb Smart represents the best of what the climbing community has to offer.
CLIMB SMART REGISTRANTS GET –
TO SUPPORT JOSAR, FOJT AND THE HEALTH OF OUR NATIONAL PARK
3-DAYS FULL EVENT ACCESS
2 DINNERS (SUPPORTED BY JOSAR AND A16)
REEL ROCK FILM TOUR 10 SCREENING FRIDAY NIGHT
3 DAYS CLINICS/TRACKS INCL. OPEN CLIMBING
RAFFLE TICKET AND T-SHIRT (LIMITED QTY)
VENDOR VILLAGE ACCESS TO BRAND REPS, RETAILERS, AND DEMO GEAR
CAMPING AT JOSHUA TREE LAKES CAMPGROUND
CARPOOL VEHICLE ACCESS INTO JTNP FOR CLINICS AND SERVICE PROJECT
SERVICE PROJECT! GIVE BACK TO OUR PARK… AND MORE!
WHAT? ONLY $109?
REGISTER NOW and join the climbing community in Josh.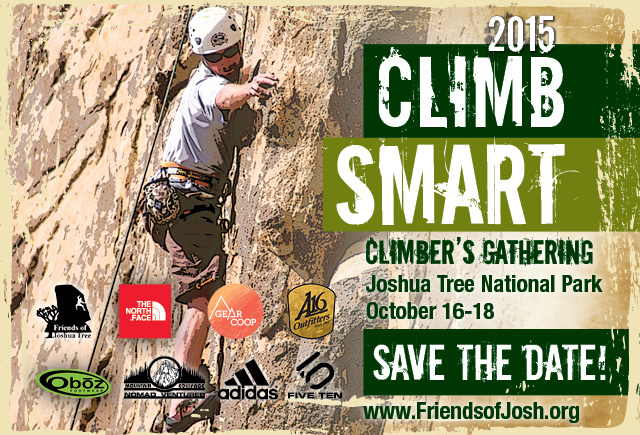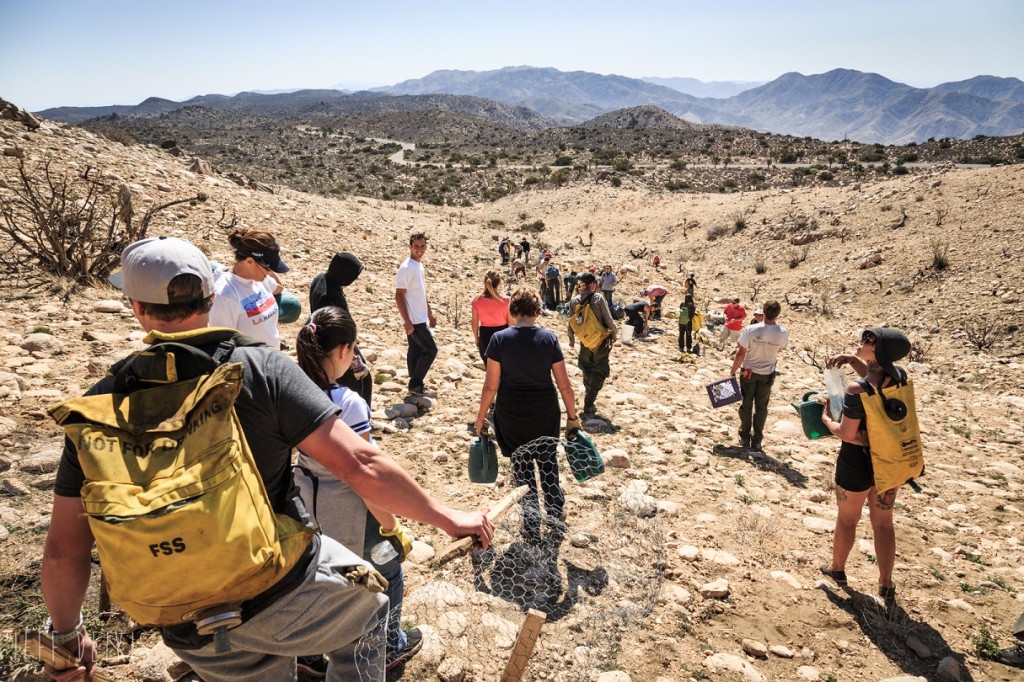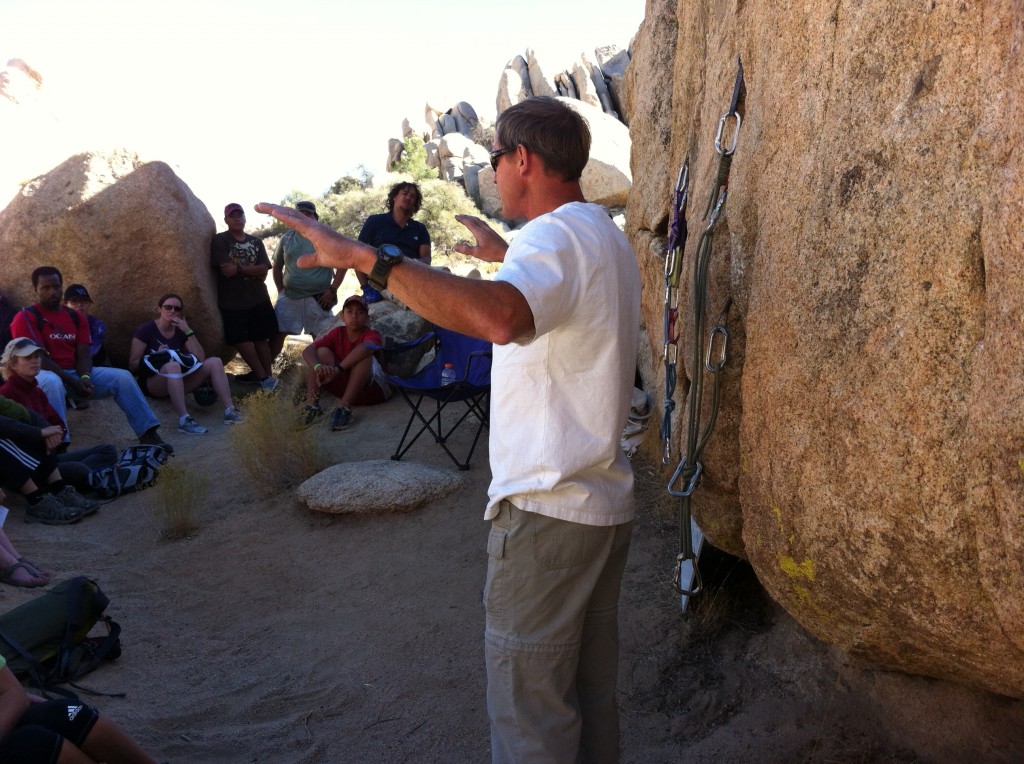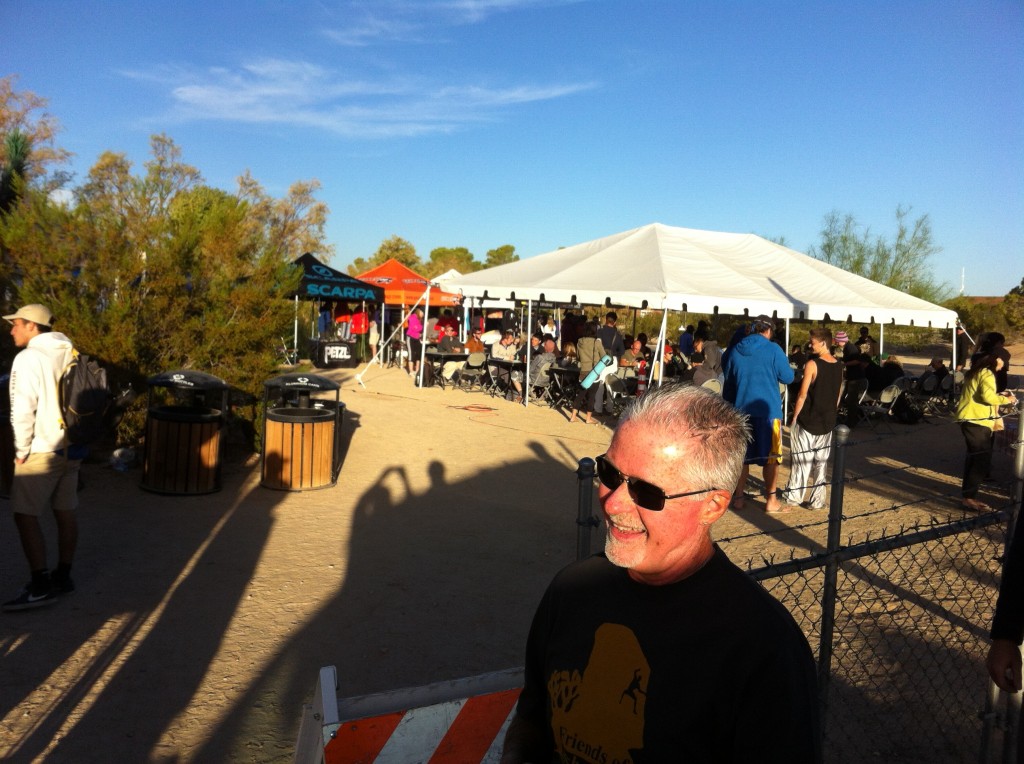 In April, some Friends of Joshua Tree board members, along with two different youth groups and staff of JTNP (even the Superintendent and his children) joined together to recreate, celebrate and educate in the Park over a weekend. These youth had never been to any national park, and most had never camped. They were from Agape International and Walt Whitman School in the Los Angeles area, and the outing was organized by Medicines Global Outdoor Youth Ambassador program. Thanks to Janice and Johanna Belson for spearheading this opportunity for these teen Angelenos to experience the Park and it's wonders of tranquility, flora, fauna and the magical Mojave/Sonoran desert landscape that is uniquely Joshua Tree. We used several sites in Blackrock Campground; can you imagine if they had woken up in Hidden Valley or Ryan? Nevertheless the beauty of the high desert was ubiquitous and amazing, including just a little bit of rain and wind.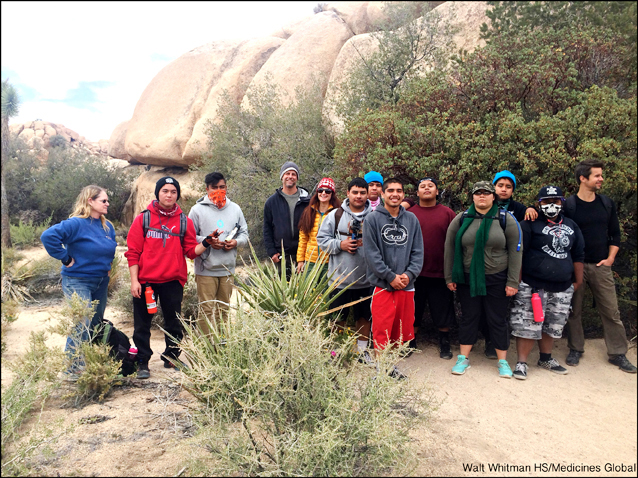 We took the kids (and their accompanying adult chaperons, many of which were newbie campers and climbers too) out and helped them set up camp, cook meals, get comfy and led a few hikes and a climbing experience that was, of course, the highlight. Of course hacky sack and some hiking to see the Barker Dam area were included.
Introducing people to the wonders of Joshua Tree is one of the great privileges of being part of the climbing community, and FOJT.
The more we can educate and introduce the natural places of our state and country to those in the urban environment, the more we will see
an embrace of the wild character we want to protect.
Who have you introduced to JTree recently? Got any pics? Share 'em up here (you have to join our gallery first, but it's easy).
KH/FOJT
A picture gallery (worth a few thousand words) below, plus a bonus short video of our shared adventure here