Join FOJT, JOSAR, and the climbing community in a gathering hosted by Joshua Tree National Park! March 8, 2017 6-8pm at the Joshua Tree Community Center (doors open 5:30pm).
Let your voice be heard… Come and discuss the current and future state of climbing in the national park. Snacks provided.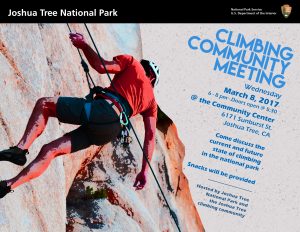 There are several temporary closures to climbing areas on the Park… please click the link below to get more detail, but the short list of closures includes
Rock Climbing Routes
Energy Crisis, on the east side of Little Hunk formation
The Schwarzenegger Wall, at the north end of Rockwork Rockformation
Zombie Woof Rock formation
The Maverick Boulder formation
Bouldering Problems
Pictograph Boulder, at the base of Queen Mountain
Shindig, on Indian Cave Boulder
Lonely Stones Area #3
The Shipwreck formation
The entire Indian Wave Boulders circut, except for Native Arete
Wormholes, in The Underground
Thanks for being aware and staying away from sensitive raptor nesting sites this spring.