This past weekend nearly 400 climbers gathered in Joshua Tree to learn and refresh skills taught by pros, get inspired by presentations and conversation, and give back to the Park at Climb Smart 2016. This 20th staging of the event was the largest ever and was the first ever to reach sold out status. The event is the single fund-raiser of the year for FOJT in support of JOSAR, HARP (rebolting initiative in JTNP), Climbers' Coffee, the Access Fund and other initiatives throughout the year that protect climbing access and manage constructive dialogue with land management agencies, the conservation community and the outdoor recreation industry. We hope you support our sponsors and guiding organizations, as well as the independent specialty retailers and local Joshua Tree businesses, that are at the root of a healthy climbing ecosystem and industry.
A few pics here, but most are getting posted to the Climb Smart facebook page 
OR the Friends Of Joshua Tree facebook group.
HUGE Thanks to all of you who contributed as a volunteer, guide, organizer, retailer, pro climber, chef, sponsor, brand representative, host, teacher and participant. The community came together around education and stewardship, and plain old-fashioned fun to kick off the JTree climbing season. Climb safe and Climb Smart this year… and thanks again for the amazing support!
For the first time in 20 years, the FOJT Climb Smart event has sold out for full weekend passes. THANK YOU to all of you supporters out there for your crucial support of local climbing advocacy!
There are still some tickets available for our Friday and Saturday night events that include pro athlete presentations and a special screening of Jeff Lowe's Metanoia (Friday night only).
FOJT BOARD OF DIRECTORS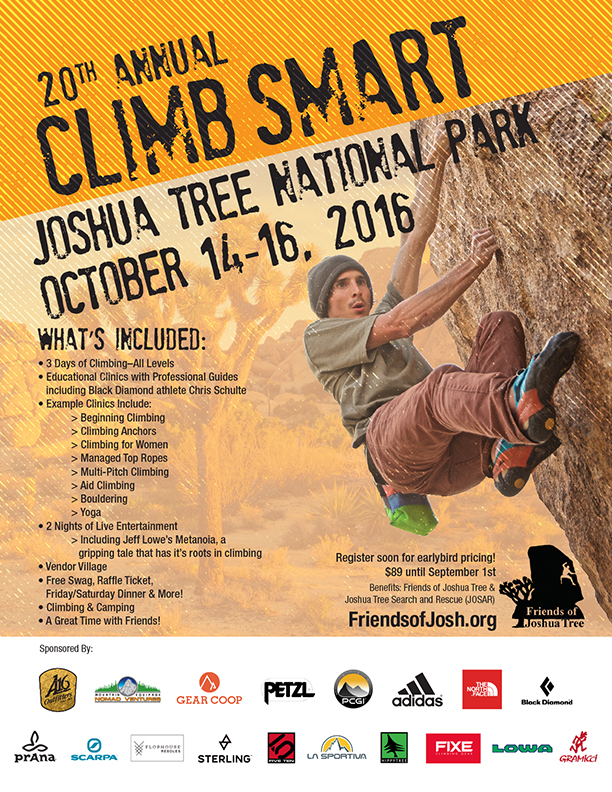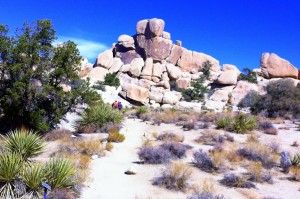 Climb Smart 2013 will base out of Joshua Tree Lake Campground as in the past two years but clinics will be held inside the Park, based on the recent action of Congress to allow us back into our National Parks.  Registration Still Open for an amazing value-packed weekend to kick off the climbing season in JTree!
Friday night is the REEL ROCK Film Tour 8, debuting for the first time in Joshua Tree and sure to be a treat in the setting of the Joshua Tree Astronomy Arts Theater at JT Lake Campground.  After a full day of sharpening skills and climbing, we can't imagine a better way to finish the evening.
Saturday full day clinics are followed by a special visit from Hans Florine, speed climbing champion and Yosemite legend.  The full event comes with a delicious dinner, participation in the raffle, and a special chance to hear from Joshua Tree National Park Superintendent Mark Butler!
JOIN US at Climb Smart 2013!