As funding becomes more of a challenge for all of us, FOJT is reaching out to you, our climbing community, for help. We are looking for knowledge on grant monies, endowment opportunities, donations, matching funds or work related charities. Employers could use our 501(c)(3) status for tax benefits. We need to find new revenue streams as we support more programs such as
H.A.R.P. (Hardware/Anchor Replacement Program)
In addition, capital improvements are a priority as Joshua Tree Search and Rescue will need a new vehicle in the next 5 to 7 years.
We ask that you do a little legwork for us: if you know of monies that might be available please make a few phone calls or emails and find us a contact person. We will take it from there. Tee us up at info@friendsofjosh.org or use our social stream DM's – facebook Friends Of Joshua Tree, twitter @JTreeFriends, or Instagram @joshuatreefriends
Thank you for your help and support!
Friends Of Joshua Tree.
This past weekend nearly 400 climbers gathered in Joshua Tree to learn and refresh skills taught by pros, get inspired by presentations and conversation, and give back to the Park at Climb Smart 2016. This 20th staging of the event was the largest ever and was the first ever to reach sold out status. The event is the single fund-raiser of the year for FOJT in support of JOSAR, HARP (rebolting initiative in JTNP), Climbers' Coffee, the Access Fund and other initiatives throughout the year that protect climbing access and manage constructive dialogue with land management agencies, the conservation community and the outdoor recreation industry. We hope you support our sponsors and guiding organizations, as well as the independent specialty retailers and local Joshua Tree businesses, that are at the root of a healthy climbing ecosystem and industry.
A few pics here, but most are getting posted to the Climb Smart facebook page 
OR the Friends Of Joshua Tree facebook group.
HUGE Thanks to all of you who contributed as a volunteer, guide, organizer, retailer, pro climber, chef, sponsor, brand representative, host, teacher and participant. The community came together around education and stewardship, and plain old-fashioned fun to kick off the JTree climbing season. Climb safe and Climb Smart this year… and thanks again for the amazing support!
Climb Smart 2015 happened under dramatic skies in and around Joshua Tree National Park this past weekend (October 16-18, 2015) with education as the centerpiece of a festival that brought together 200+ climbers from around the Western U.S. to kick off the season. Staged with lightning flashing in the night sky, thunder rolling nearby but clear skies and perfect weather for climbing, clinicing, stewarding, star gazing and celebrating in the high desert.
The festival was held again at the Joshua Tree Lake Campground, along with the upgraded Desert Astronomy Theater for the evening feature events.
Here are some images to share, and hopefully you can share more with us via our social media pages on Facebook, Instagram and Twitter. Friends Of Joshua Tree on facebook, JTreeFriends on Twitter. Use #ClimbSmart2015 to share it far and wide…
Joshua Tree Lake Campground, the Desert Video Astronomy Theater, and the National Park itself were great partners of the event, as well as many sponsors, individuals and other like-minded organizations like the Access Fund, Southern California Mountaineers Association and JOSAR, the search and rescue organization serving Joshua Tree. Volunteers from accredited climbing schools like Cliffhanger Guides, Joshua Tree Guides, PCGI and The Climbing Life were anchors of the event, along with volunteers from Adventure 16, Gear Coop, Nomad Ventures and other event sponsors.
Professional athletes Daniel Woods (The North Face) and Jess Roskelley (adidas Outdoor) presented inspiring multimedia shows and shared their formidable skills in the Park with clinic attendees, and a dozen Climb Smart participants worked with JTNP on a special service project in the Hall of Horrors area.
Thanks to all involved for participating and contributing to an excellent climbing community event, and mark the dates for 2016 (tentatively OCTOBER 14-16) for CLIMB SMART 2016.
Board of FOJT
OCTOBER 16-18… This year's CLIMB SMART will be the 18th annual event that leads into the Centennial year of the National Parks in the USA. This will be among the best events to attend of the season! TNF's Daniel Woods is a feature athlete offering insight and inspiration!
JUST ADDED – Jess Roskelley (adidas Outdoor athlete)… many more will gather with us again next month… YOU can be there.
Kick off the climbing season with us and our awesome partner organizations in service to the Park, to our great climbing community and learn/refresh skills while building a network of passionate and diverse climbers from different disciplines, skill levels and meet a few legends too. And then, there's always the swag and feature entertainment in the evenings that are just plain fun and worthwhile by themselves. See pics of Climb Smart events from the past below. And videos here!
In all, Climb Smart represents the best of what the climbing community has to offer.
CLIMB SMART REGISTRANTS GET –
TO SUPPORT JOSAR, FOJT AND THE HEALTH OF OUR NATIONAL PARK
3-DAYS FULL EVENT ACCESS
2 DINNERS (SUPPORTED BY JOSAR AND A16)
REEL ROCK FILM TOUR 10 SCREENING FRIDAY NIGHT
3 DAYS CLINICS/TRACKS INCL. OPEN CLIMBING
RAFFLE TICKET AND T-SHIRT (LIMITED QTY)
VENDOR VILLAGE ACCESS TO BRAND REPS, RETAILERS, AND DEMO GEAR
CAMPING AT JOSHUA TREE LAKES CAMPGROUND
CARPOOL VEHICLE ACCESS INTO JTNP FOR CLINICS AND SERVICE PROJECT
SERVICE PROJECT! GIVE BACK TO OUR PARK… AND MORE!
WHAT? ONLY $109?
REGISTER NOW and join the climbing community in Josh.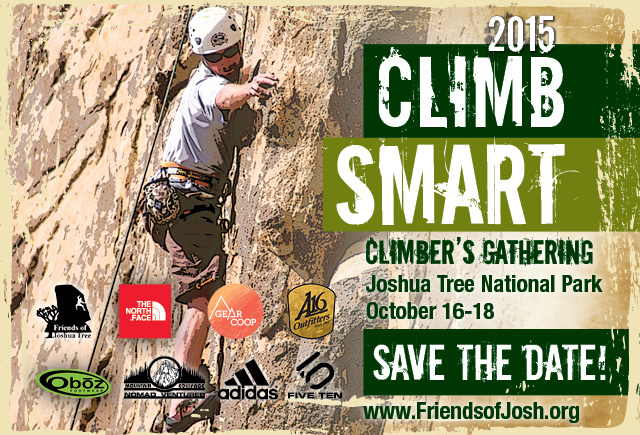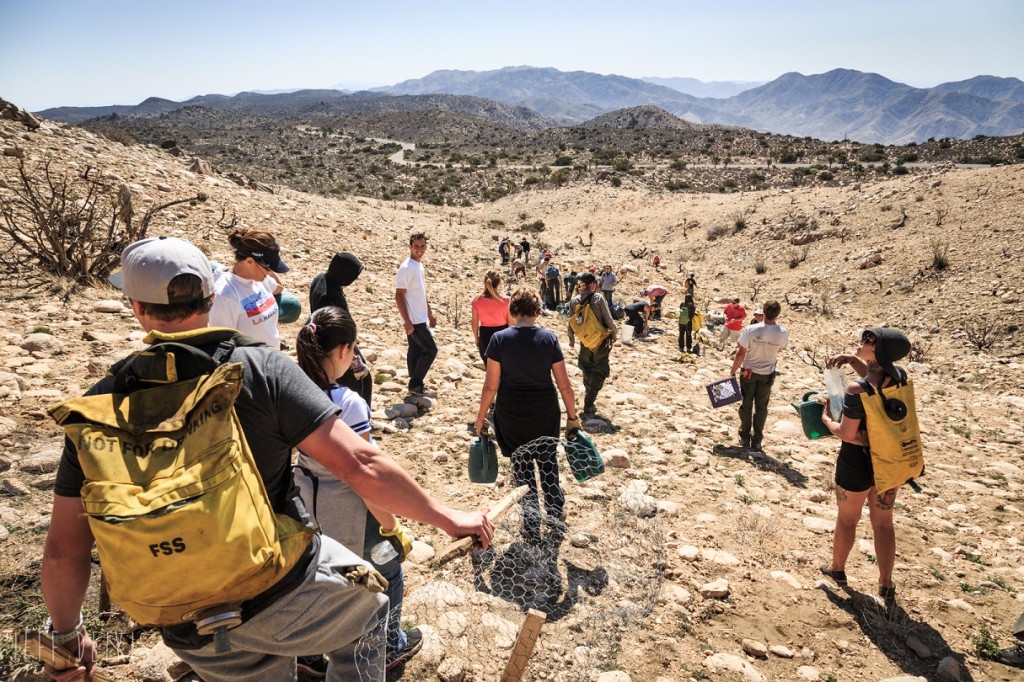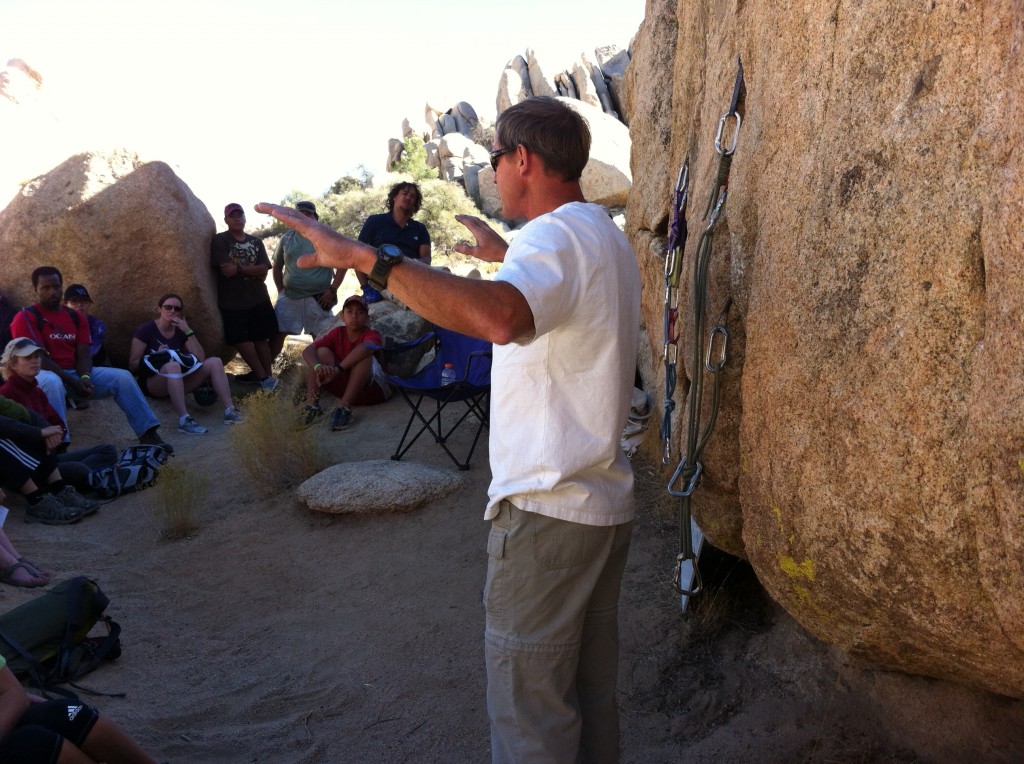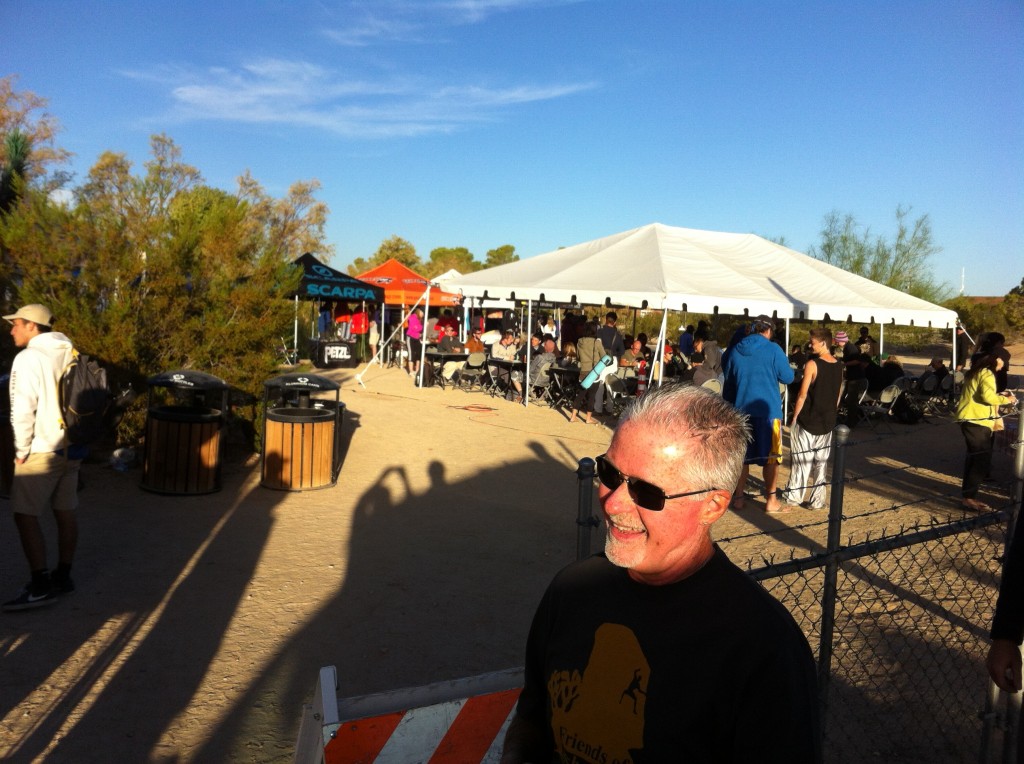 In April, some Friends of Joshua Tree board members, along with two different youth groups and staff of JTNP (even the Superintendent and his children) joined together to recreate, celebrate and educate in the Park over a weekend. These youth had never been to any national park, and most had never camped. They were from Agape International and Walt Whitman School in the Los Angeles area, and the outing was organized by Medicines Global Outdoor Youth Ambassador program. Thanks to Janice and Johanna Belson for spearheading this opportunity for these teen Angelenos to experience the Park and it's wonders of tranquility, flora, fauna and the magical Mojave/Sonoran desert landscape that is uniquely Joshua Tree. We used several sites in Blackrock Campground; can you imagine if they had woken up in Hidden Valley or Ryan? Nevertheless the beauty of the high desert was ubiquitous and amazing, including just a little bit of rain and wind.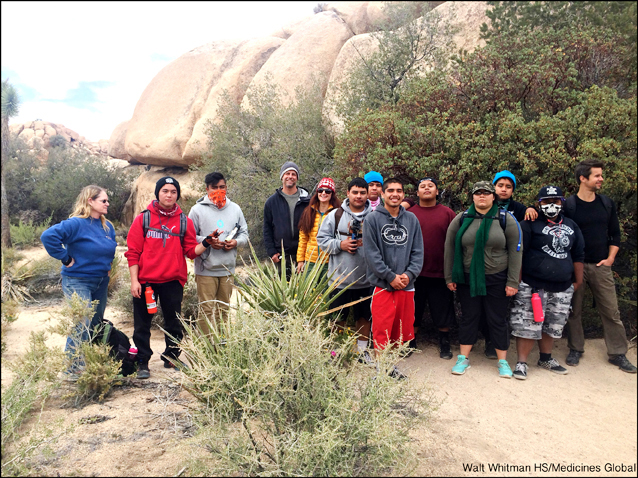 We took the kids (and their accompanying adult chaperons, many of which were newbie campers and climbers too) out and helped them set up camp, cook meals, get comfy and led a few hikes and a climbing experience that was, of course, the highlight. Of course hacky sack and some hiking to see the Barker Dam area were included.
Introducing people to the wonders of Joshua Tree is one of the great privileges of being part of the climbing community, and FOJT.
The more we can educate and introduce the natural places of our state and country to those in the urban environment, the more we will see
an embrace of the wild character we want to protect.
Who have you introduced to JTree recently? Got any pics? Share 'em up here (you have to join our gallery first, but it's easy).
KH/FOJT
A picture gallery (worth a few thousand words) below, plus a bonus short video of our shared adventure here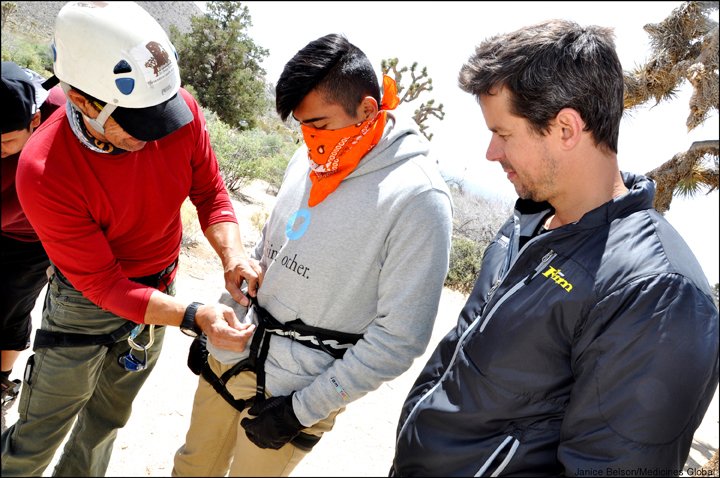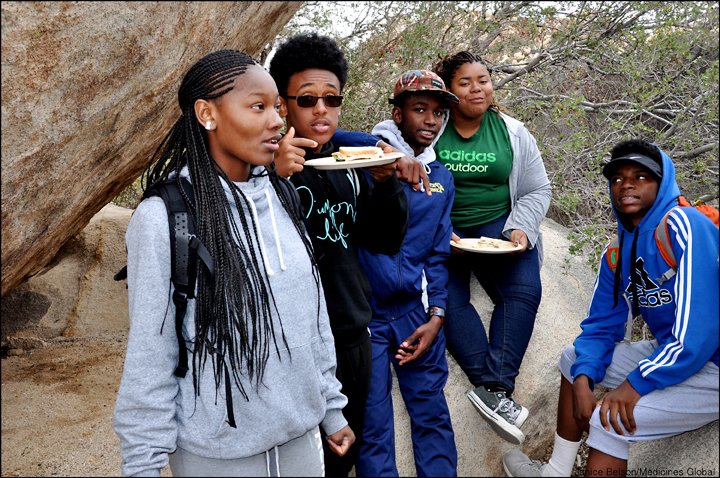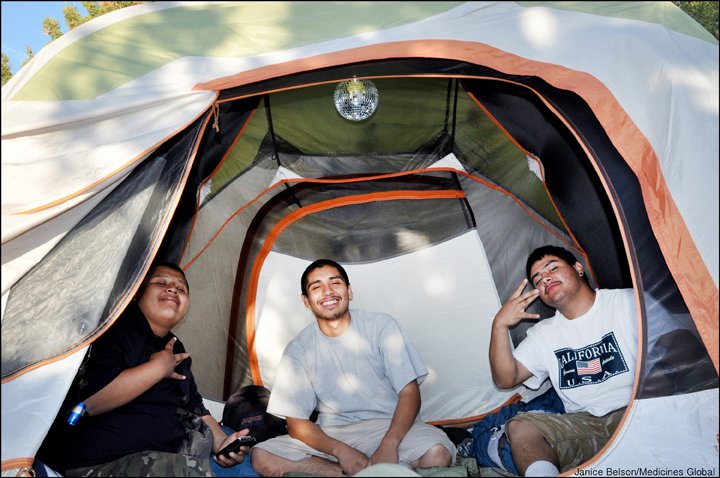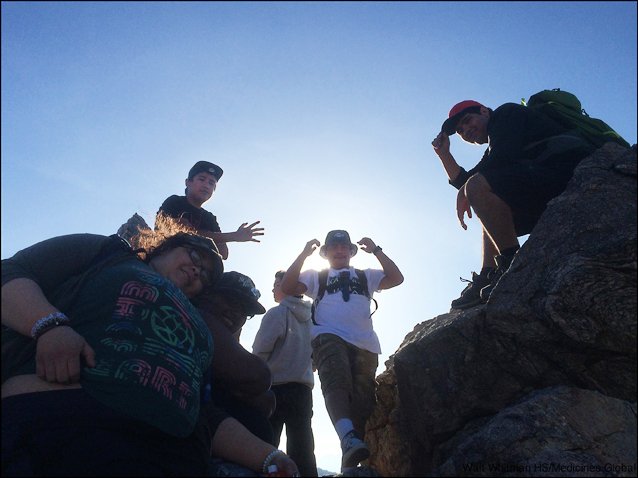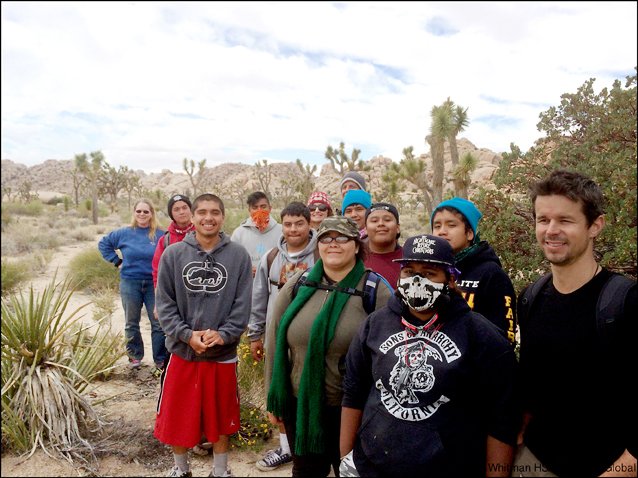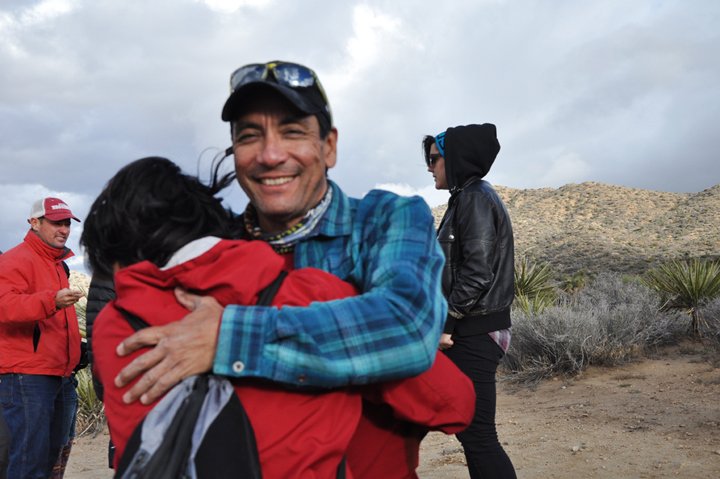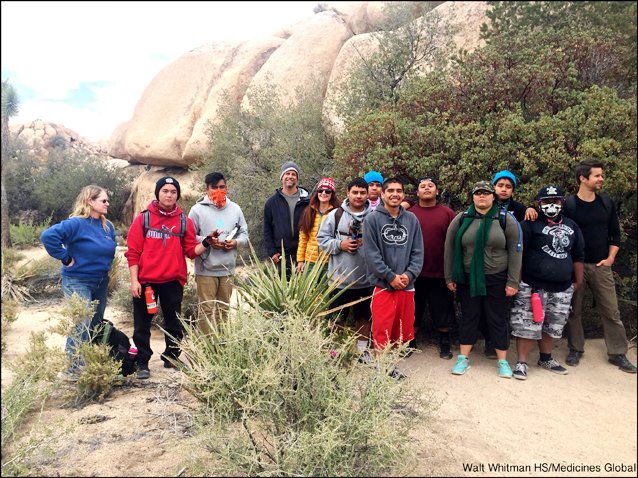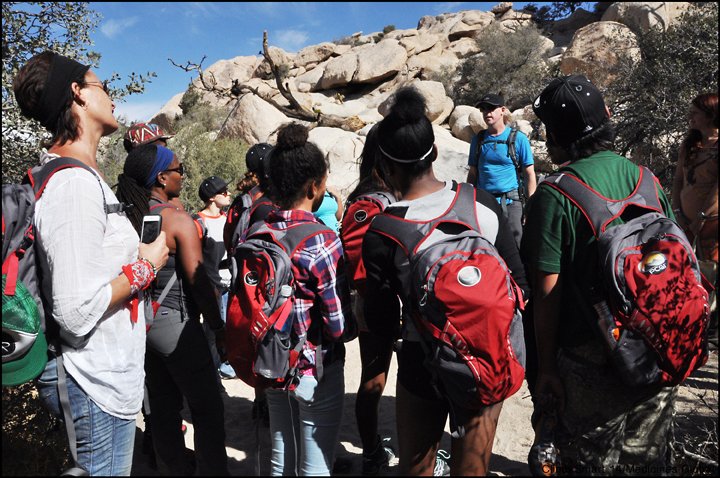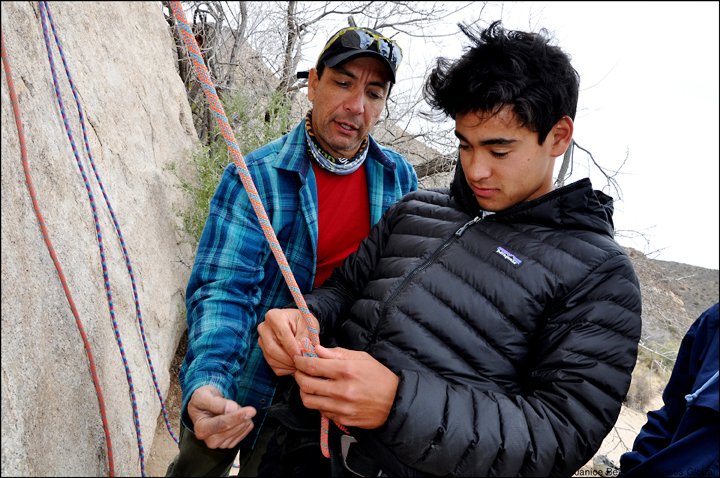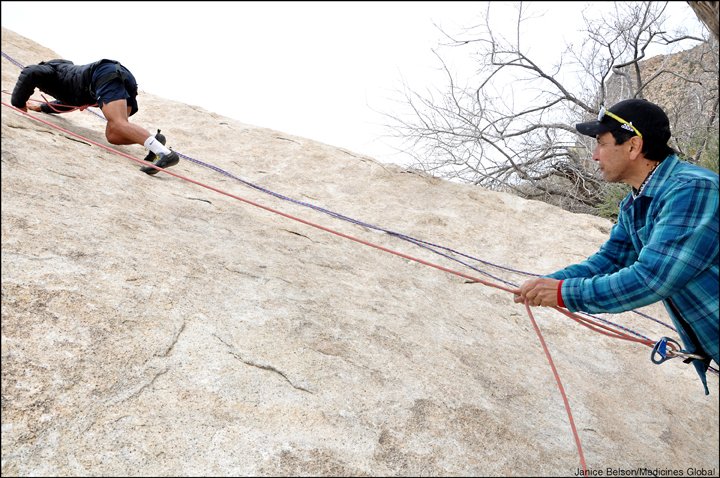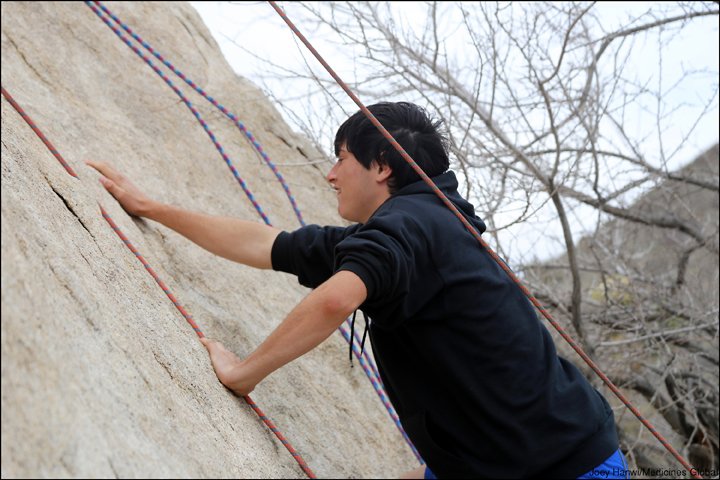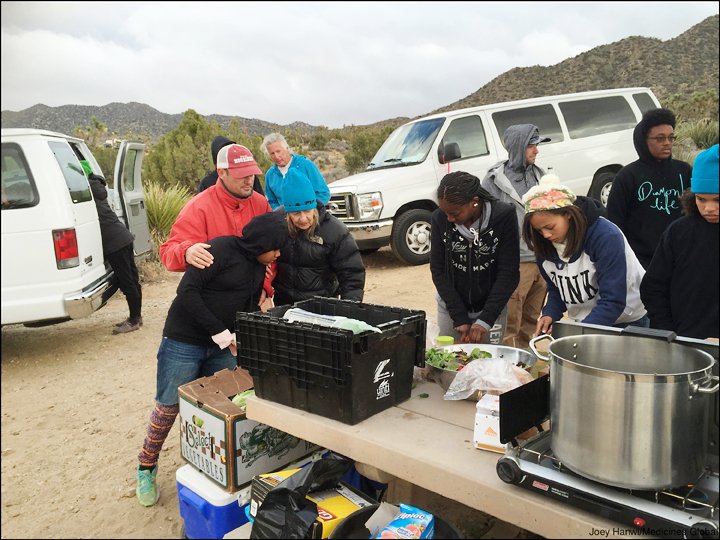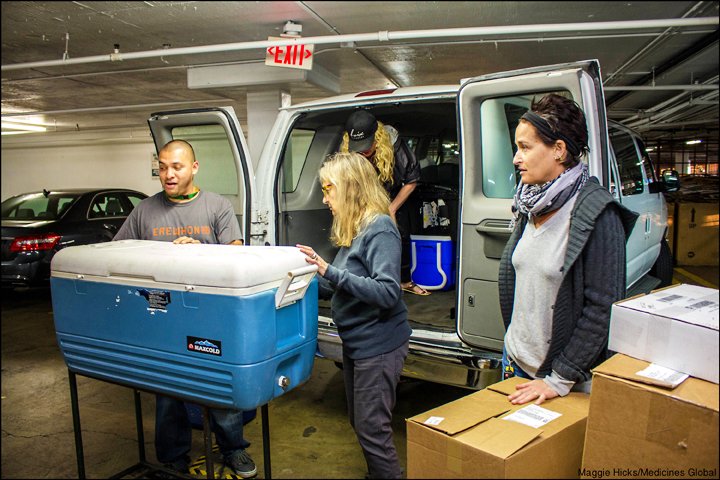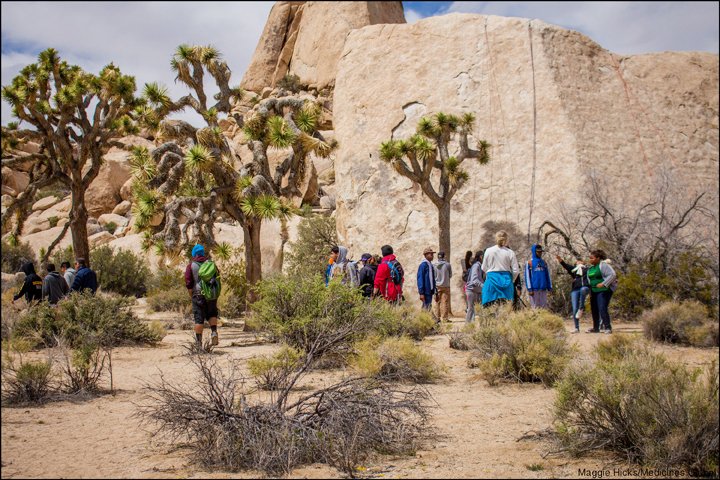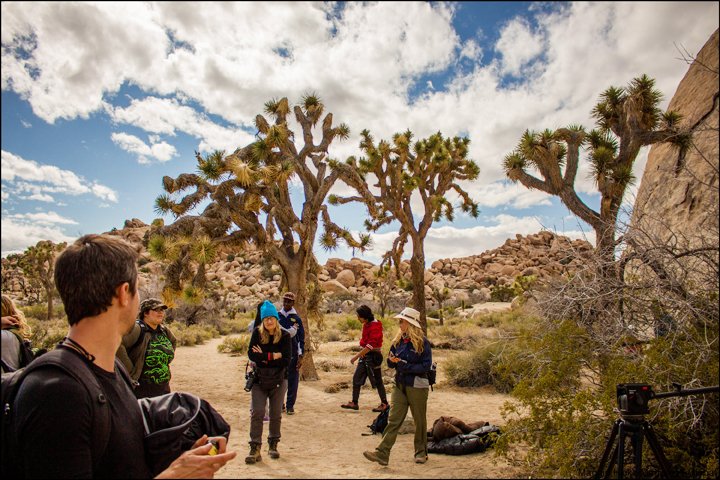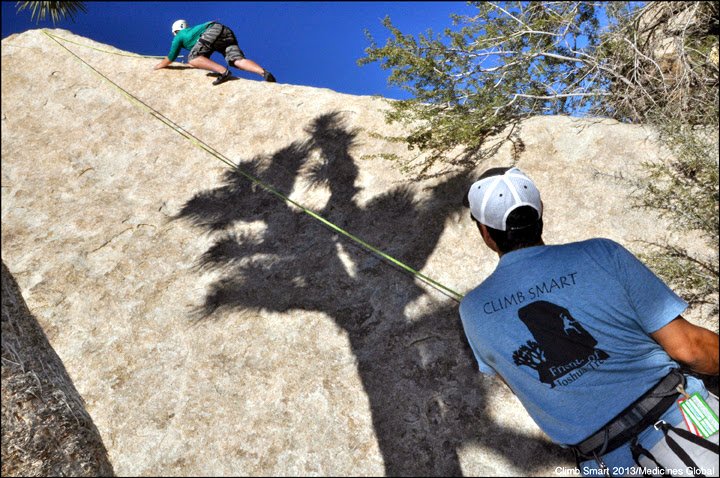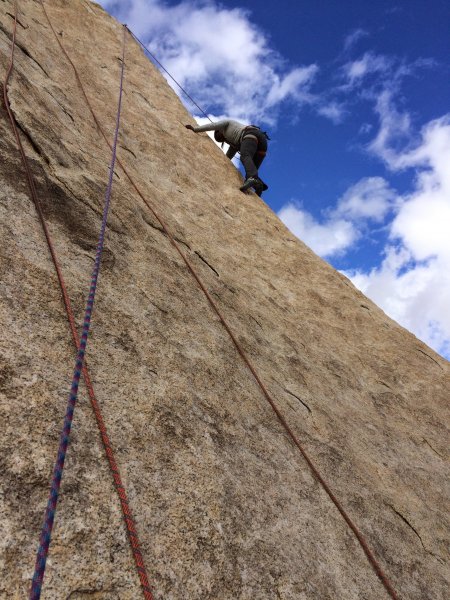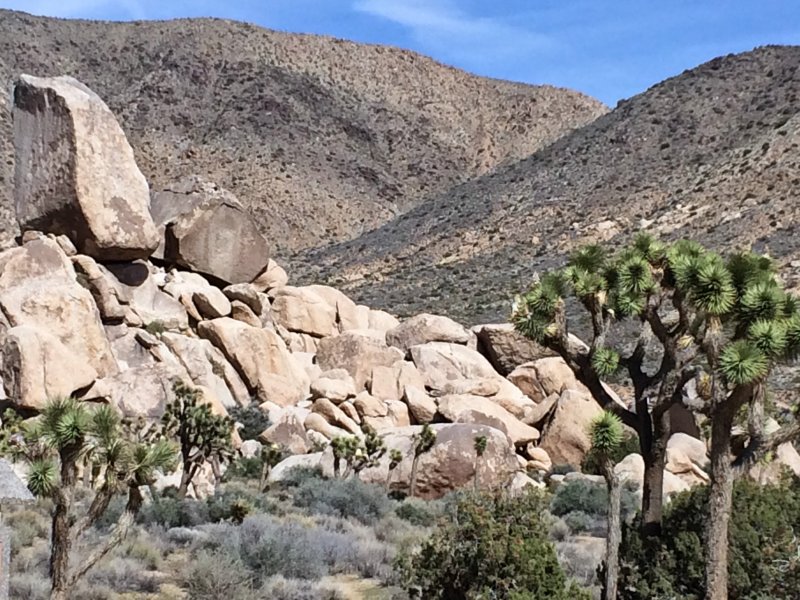 It's time to mark your calendars for FOJT's Climb Smart 2015!
OCTOBER 16-18, 2015 at Joshua Tree Lake Campground will once again be the climber kickoff to the season with Education, Stewardship and a Fun Time on deck for all attendees. This year's event will feature more pro athletes, brands and opportunities than ever before, so ink the date and stay tuned for more details on Sponsors, Service Project and the Reel Rock Film Tour (brought by Gear Co-op once again!) tie-in for 2015.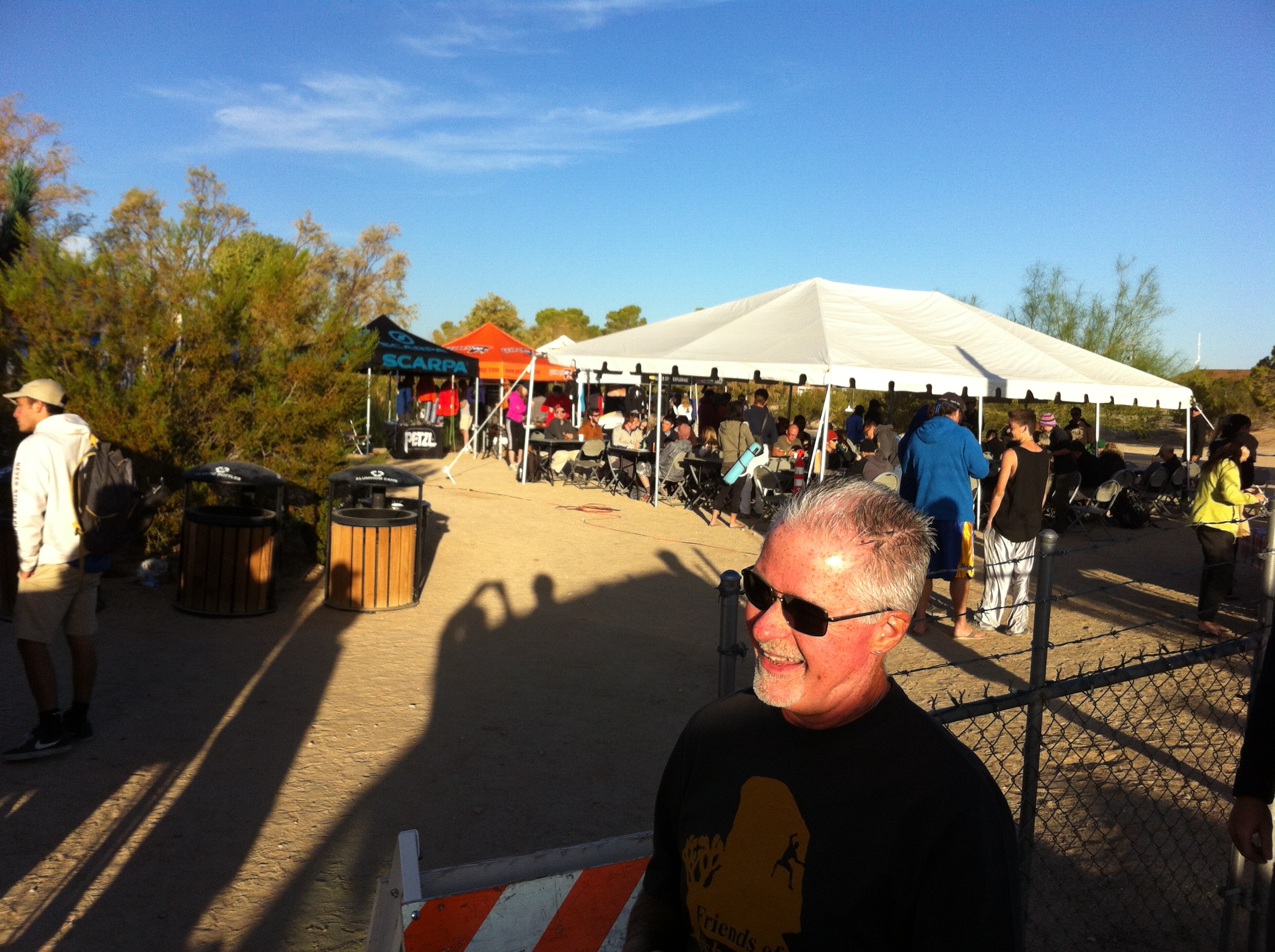 Mark your calendars (OCTOBER 17-19, 2014) for the kickoff event of the Fall climbing season in JTree… Climb Smart 2014. A benefit for Friends Of Joshua Tree as well as JOSAR, this gathering at the Joshua Tree Lake Campground and Astronomy Arts Theater and various venues in and outside of the Park is simply an awesome way to sharpen your trad skills, meet some amazing climbers, get to win piles of swag, see Real Rock 9 "Valley Uprising" Friday night and meet John Long Saturday, and give back to the Park and just have fun with loads of new climbers.
Here's what you get by registering for Climb Smart 2014:
2.5 days of skills clinics with PCGI and SCMA instructors
2 dinners
3 nights camping (through Saturday night)
Ticket to Reel Rock Film Tour #9
Vendor village for learning about the latest gear innovations
Lots of other climbers, beginner to advanced, to build your network out
Athlete presentations and coaching
SEE THE 2014 Climb Smart SCHEDULE HERE CS clinics 2014 FD

 

(schedule subject to change… heads up! )
It's our biggest event of the year and we go all out!  REGISTRATION IS NOW OPEN!  so sign up on our facebook page or for our email news alerts on this page.
We wanted to let you know about an Adopt a Crag event happening in your area.
Where: Town Hall, Idyllwild, CA
When:  Sunday, June 1
Details:  After coffee and scones we will break into three groups to work on the trail to Lunch Rock, the trail to the North Side of Tahquitz, and the trail to Suicide Rocks. When the work is done we will return to Town Hall for lunch, a raffle, and a silent auction. Sponsors have been generous with swag so you efforts should be rewarded!
Bring work clothes, gloves, water and snacks, and contact James Pinter-Lucke with questions: jlucke@cmc.edu.
http://www.mountainproject.com/v/suicide-rock/105788036
Every hour of time you donate to a crag helps show land managers that climbers are responsible stewards. Grab some friends and a pair of work gloves and spend a day giving back to the sport you love! We hope to  see you there.
Thanks for your support,
Access Fund and FOJT