Eagle Mountain, CA:  On Friday,  February 25, the Obama Administration dealt a heavy blow to the proposed Eagle Mountain dump at Eagle Mountain, nestled in the arms of Joshua Tree National Park. After nearly 24 years of defending the dump in court, the Department of Interior reversed its longstanding position and opposed the dump developer's petition to the U.S. Supreme Court. This substantially weakens the developer's case and may persuade the Supreme Court to reject the petition, leaving in place lower court rulings that protect the park.
This is a fantastic victory for JTNP and the community of Joshua Tree.  Next to our national treasure is definitely no place for the nations biggest landfill…
http://dpcinc.org/index.php/site/article/obama_joshua_treeNP/
some counterpoint, if you're interested. (added March 2012)
http://www.pe.com/local-news/topics/topics-environment-headlines/20111031-desert-eagle-mountain-dump-developer-files-bankruptcy.ece
Plans for Landfill Near Joshua Tree Stalled
by Lauren Hasler
Plans to move in a new neighbor next to Joshua Tree National Park were stalled when a southern California appeals panel ruled to temporarily halt development of what would be the largest nonhazardous solid waste landfill in the nation.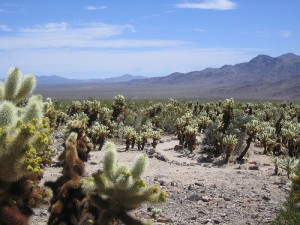 The proposed Eagle Mountain Landfill would draw trains from Los Angeles County with an estimated 20,000 tons of waste each day for 117 years. The total capacity of the proposed landfill, an abandoned iron ore mine, is approximately 708 million tons.
According to NPCS, the landfill would pose many environmental consequences, including harm to Bighorn sheep and endangered desert tortoises, contaminated groundwater, poor air quality, and other visual, noise and night lighting impacts in the park. Photo: Flickr/sebastien.b
For two decades, Ontario-based Kaiser Ventures Inc. has been fighting to develop the 4,654 acres surrounded on three sides by the park and located one-and-a-half miles from Joshua Tree.
Mark Cipra, the California desert program manager with the National Parks Conservation Society (NPCS), called the ruling "a landmark victory for Joshua Tree National Park's bighorn sheep, desert tortoises and the 1.3 million people who come here every year to enjoy our beloved national park."
Kaiser Ventures acquired the land during a swap with the U.S. Bureau of Land Management (BLM) in 1997. MSNBC reports that two jojoba farmers sued to stop a Bureau of Land Management (BLM) deal necessary for the development 20 years ago.
The NPCS later joined the case. This panel upheld a lower court's ruling that the BLM's appraisal of the land was not accurate because it did not take the future use of the land as a lucrative landfill into consideration.
Kaiser Ventures and the BLM now have the option of appealing the decision to the full appeals court.
Lauren Hasler
Lauren is a journalism major at the University of Missouri with an interest in environmental sustainability education.