As part of a year-long celebration of the park's 75th Anniversary, Joshua
Tree National Park and the National Parks Conservation Association (NPCA)
are partnering to host a one day conference highlighting several topics:
– the potential effects of global climate change,
– impacts of climate change on individual park species and native
ecosystems,
– developing climate change science, monitoring programs, and climate
change adaptation strategies.
Location: UCR, Palm Desert Campus Graduate Center
Date: Friday, December, 2The symposium will be followed on December 3 by a field trip to the park.
For additional information please contact the park's 75th Anniversary
Coordinator George Land at 760-367-5507, or by email: george_land@nps.gov.
On December 7, the Western Governor's Association, led by Gov. Chris Gregoire (WA), will visit Yucca Valley for a public discussion and presentation on gateway communities and the importance of the rural and suburban infrastructure on the health of communities and the country.
For more information visit the WGA Web site at www.westgov.org.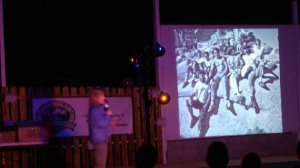 With the perfect weather window, a brand new venue, a slew of amazing and talented pros, the partnership of the Park and awesome sponsors from retail to brand to advocacy groups to the Cactus Pricks, Climb Smart 2011 broke through in completely new style on the 14 year old annual event. Huge THANKS to all of you who contributed to an all-time great time in and around JTNP.
If you want to get a glimpse of what happened last weekend, check out these links UPDATED:
Climb Smart Video incl. Lynn Hill at Thin Wall (thx to Smoking Chimp Productions!)
our Facebook page, with Pics!
JTree Astronomy Arts Theater (the venue and amazing multimedia platform)
SoCal Digital Video Astronomers
The Cactus Pricks (featuring climbing icons Al Bartlett, Don Reid, and Pat Brennan on stagecraft!)
More to come as folks get their film processed and back from the darkroom (!).
Climbers doing good!
Come celebrate Joshua Tree National Park's 75th Anniversary with Huell Howser and meet the new Super as well!
http://www.jtnp75.org/ (link to invite page)
And… check out this little bio on NEW JTNP Superintendent Mark Butler… he's climbed in Joshua Tree even, and hails from Yosemite National Park, which enjoys a strong climbing culture.   Read more by clicking this